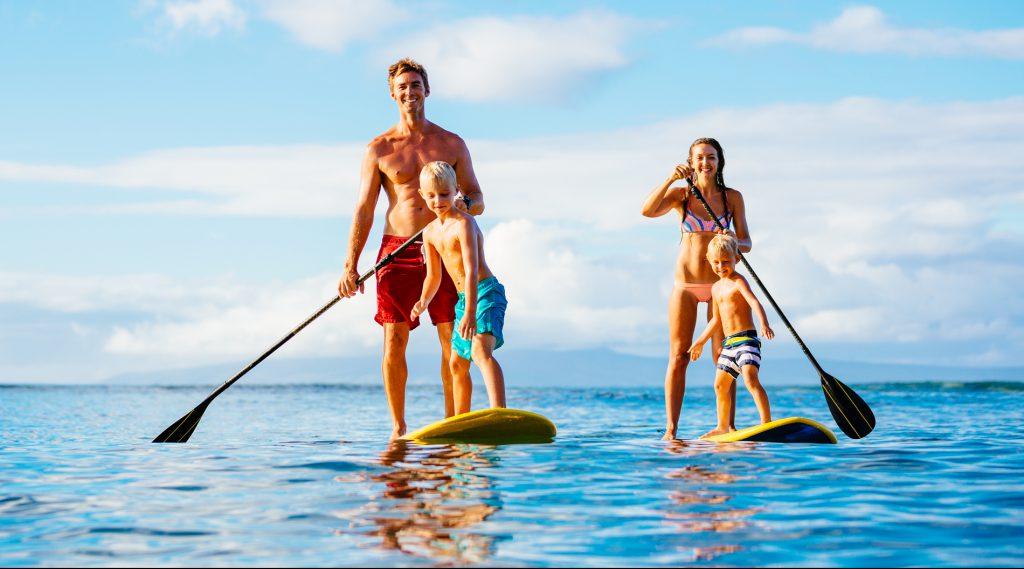 Heading to the Outer Banks with children in tow? You'll be glad to know that these beautiful barrier islands offer countless opportunities for family-focused fun. Here are a few suggestions.
#1 Visit Jockey's Ridge State Park
Located at Milepost 12.5 in Nags Head, this 426-acre scenic park offers something for every age level:
Climb the East Coast's tallest living sand dune. Enjoy sweeping views ranging from the Atlantic Ocean clear across to Roanoke Sound.
Stroll along the 360-foot-long boardwalk for an easy family trek, ideal for both toddlers and seniors.
Hike a clearly marked one-mile nature trail to reach grass-covered dunes and wetlands where coastal wildlife abounds.
#2 Take a Dolphin Watch Tour
Few OBX experiences are more thrilling than dolphin watching. Even the tiniest tots will be wowed by the sight of silvery dolphins rising out of the waves, arching gracefully for a split-second, then plunging back into the foam.
Several Outer Banks companies offer seasonal dolphin tours. For instance, Kitty Hawk Kites sponsors daily tours at three different locations: two at Nags Head, one at Manteo. All three are guided by skilled marine scientists from the Outer Banks Center for Dolphin Research.
You and your family will ride aboard a spacious pontoon boat for a 2-plus-hour excursion into open ocean waters. As you scan the waves for frolicking dolphins, your expert guides will regale you with fascinating lore about Outer Banks' history and landmarks.
#3 Stroll Through the Elizabethan Gardens
Seeking something that's sure to please kids, parents, and even grandparents? Check out the Elizabethan Gardens at 1411 National Park Drive in Manteo (within Fort Raleigh National Historic Site).
Billed as "an oasis of color in a land of sea and sun," these lushly landscaped gardens boast vivid successive displays of bright flowers and blooming shrubs virtually all year-round.
Paved walkways provide easy access to every part of the scenic grounds. And distinctive Old World statues - including a majestic statue of Queen Elizabeth I herself - offer a glimpse into the region's intriguing 16th-century heritage.
#4 Attend an Outdoor Performance of the Famous "Lost Colony" Drama
What happened to the 117 English settlers who came ashore at Roanoke Island in 1587, then quickly disappeared, virtually without a trace? Nobody knows, but this famous unsolved mystery still enthralls visitors to the NC Outer Banks.
Since the 1930s, The Lost Colony, a symphonic outdoor drama, has explored the poignant story of this ill-fated early settlement. Performed right on the Roanoke Island soundfront, the Tony award-winning production showcases the pageantry of the Elizabethan court, the exploits of the English settlers, the complex relations between newcomers and Native Americans, and much more.
Featuring a stellar cast of actors, dancers, and musicians - all in authentic period costume - The Lost Colony runs nightly, Monday through Saturday, at 8:30 p.m., from late May through late August. Adult tickets start at $20, kids 5 and under attend free, and group discounts are available.  
#5 Learn How to Kayak or Paddleboard
The Outer Banks' calm, shallow soundside waters are ideal for kid-friendly watersports like kayaking and stand-up paddleboarding. So, go ahead. Get your feet wet!
Depending on where you're staying, you'll have your pick of OBX outposts where you can rent or buy kayaks and paddleboards plus arrange for tours and lessons. From Outer Banks Paddleboard (with three locations) to Kitty Hawk Kayak and Surf School, you're sure to find the watersports learning experience that fits your family's needs.
#6 Fish from Jennette's Pier
Any anglers in the family? Bring them to Jennette's Pier at 7223 Virginia Dare Trail in Nags Head. Open 7 a.m. to 9 p.m. daily, this modern concrete pier extends 1,000 feet out across the Atlantic. This allows for deeper waters where prized game fish abound. For a modest daily fee - no license required - you can cast your line for bluefish, sea mullet, speckled trout, flounder, cobia, mahi-mahi, croaker, drum, mackerel, pompano, and other delectable sportfish.
#7 Explore Pea Island National Wildlife Refuge
Love birdwatching? Enjoy getting close to nature? Bring the family to Pea Island Wildlife Refuge. It's a magical world of dunes, ponds, and beaches spanning 13 miles at the northern end of Hatteras Island.
Here you can wander along secluded nature trails and savor the stunning views. Perhaps get a glimpse of the geese, ducks, and seabirds that nest, feed, and flourish here. Want a great birding tour? Try Native Birding Tours.
#8 Have a Blast at the Beach
That's what you're here for, right? Pick your favorite Outer Banks beach, spread your blanket, pop up your umbrella, dab on plenty of sunscreen, and get ready for a full day of sun, surf, and family fun.
#9 Feast on Freshly Caught Seafood and More
With dozens of locally owned eateries, the Outer Banks truly has something for every taste - yes, even your finicky toddlers. Choose from romantic waterfront restaurants, relaxed casual bistros, unique non-chain pizza parlors, and, of course, seafood places galore featuring succulent "catch of the day."
#10 Relax in Your Outer Banks Vacation Rental
Most OBX rentals offer family-pleasing amenities like hot tubs, game rooms, home theaters, and big-screen TVs. After a busy day, the kids will find plenty to keep them happily occupied. The grownups can relax, unwind, and store up precious memories of a wonderful seaside vacation.