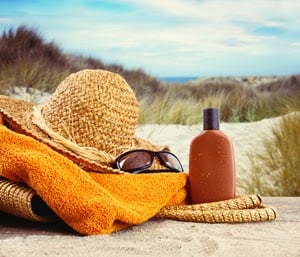 Swimsuit? Check. Sunscreen? Got it! Cooler? It's packed. These essentials are on everybody's list of what to take to the beach. But there are some popular gadgets available that you might also want to bring along to make your trip more fun and comfortable.
#1 Parasheet
- Yes, if you're headed to the beach, you must have towels for drying off. However, let's face it... using them to lay out in the sun is hot and gritty. The thick material is anything but cool, and sand sticks to it like super glue. Parasheets are made from parachute material and are big, breathable, lightweight and dry in seconds.
#2 Waterproof Case
- Walking on the beach is part of the fun of vacationing in the Outer Banks. But who wants to carry all their valuables? Or risk your phone getting covered with sand or wiped out by a rogue wave? There are all sorts of waterproof cases available now with neck straps that solve this problem nicely.
#3 Waterproof iPod Speaker
- Let's face it, the beach is much more fun with tunes! iPods are great, but when you use ear buds, you're the only one who can hear the music. There is a great selection of waterproof speakers for iPods available online. Slide your iPod inside, lock it down and turn it up!
#4 Waterproof Playing Cards
- Get hours of fun with cards that don't fear the water. From Go Fish with the little ones to Poker for the adults, everybody can use this beach-friendly deck.
#5 Beach Shelter
- Better than an ordinary beach umbrella, shelters block more of the sun and fold into small packages. Usually made of breathable nylon, beach shelters are lightweight and a lifesaver if you're traveling with babies, toddlers or anyone who needs a break from the heat/sun from time to time.
Packing some of these cool gizmos for your next adventure in the Outer Banks is a sure way to boost your level of fun in the sun.