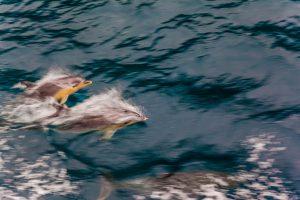 Are you vacationing with a large group? Perhaps you're booking an OuterBanks getaway for a wedding party, family reunion, church group, corporateretreat, or multi-family gathering?
No matter what your party's purpose, you'll find lots to see and do inthe NC Outer Banks, including fun-filled activities ideal for larger groups.Here are just a few options.
Charter a Dolphin-Watching Tour
One of the best-loved mammals of all time, dolphins make their homes inthe Outer Banks. Throughout the warmer months, bottlenose dolphins throng thesebalmy waters. And, fortunately, several local companies offer dolphin-watchboating excursions that accommodate sizable groups.
For starters, try Captain Johnny's Dolphin Tours. Headquartered inManteo, NC, this well-known OBX business provides guaranteed dolphinsightings aboard a comfortable, covered pontoon boat - 55 feet long, 14feet wide, and Coast Guard-certified for safety.
During the season, Captain Johnny's popular cruises depart daily, Mondaythrough Friday, at 10 a.m., 1 p.m., and 6 p.m. (for the sunset tour). If youprefer, you can charter the entire boat for a private, customized tour, withseating for up to 49 people. All ages are welcome, from infants to seniors.Soft drinks, snacks, and candy are available for sale. And yes, there's a well-maintainedrestroom right onboard.
Each tour takes about two hours. As you cruise, your expert captain - a 9th-generationOuter Banks resident - will regale you with fascinating lore about bottlenosedolphins. Meanwhile, you'll get to watch those sleek silver creatures as theyleap, splash, and play in serene protected waters. It's an unforgettableexperience.
Want a more in-depth scientific look at the bottlenose dolphin? Joinbiologists from the non-profit Outer Banks Center for Dolphin Researchfor an eco-tour aboard the Miss Bodie Island (departing from Manteo) or the40-foot-long Phoenix (launching from Nags Head Causeway).
Each pontoon boat can carry up to 30-36 people across the tranquil watersof Roanoke Sound. While you glide along, you'll spot dolphins frisking andfrolicking right alongside the vessel. And you'll hear about the ongoingdolphin studies conducted by the Center's researchers. It's a wonderful way tolearn more about these marvelous mammals... from actual scientists engaged incutting-edge research.
Explore the Mystery of "The Lost Colony" (with Special Discounts for Larger Parties)
In 1585, the first English settlers arrived at Roanoke Island. By 1590,they had completely disappeared, leaving no trace of their settlement and noclue to their fate - except the word "CROATOAN" carved into a tree.
What happened to these early settlers? No one knows for sure. But theirstory lives on in The Lost Colony, thenation's longest-running outdoor drama, featuring over 130 actors, musicians,designers, technicians, and volunteers.
Written by Pulitzer Prize-winning playwright Paul Green, this TonyHonor-awarded play has thrilled millions of viewers since its premiere in 1937.Today it's a massive production, combining drama, music, and dance on anoutdoor stage three times as large as most Broadway theater stages.
But the action's not confined to the stage. As you relax in your plushoutdoor seat, you'll be surrounded by colorful characters - intrepid Britishcolonists, daring Elizabethan explorers, valiant Native American warriors - allin authentic period costume. You'llwitness the pageantry of Queen Elizabeth I's court... the moving story ofVirginia Dare, the first English baby born in America... the humor, joy, andheartbreak of life in the New World wilderness... and much more.
It all unfolds at the ocean-view Waterside Theatre on Roanoke Island, thevery site of the original Lost Colony. Best of all, groups of 15 or more areeligible for ticket discounts... while groups of 50 or more also qualify forpriority seating, backstage tours, and Character Dinners with the actors.
See the Legendary Wild Horses of the Outer Banks
Have you heard about the Bankers - those beautiful feral horses believedto be descended from Spanish mustangs brought to the Outer Banks in the 16thcentury?
Today about 400 of these friendly beasts roam free in specially shelteredareas on several OBX islands, including Corolla, Currituck Banks, Bodie Island,Cape Hatteras, and Ocracoke.
What's more, you can easily book a group tour to see these magnificentponies. At Corolla's Wild Horse Adventure Tours, for example, groups ofup to 13 people can ride in a customized open-air Hummer across the Outer BanksWild Horse Sanctuary, through gorgeous maritime forests, and along nearly 20miles of pristine beachfront. Along the way, highly trained guides will tellyou all about local ecology, beach lore, and natural history... as you enjoy a uniqueopportunity to spot the Banker ponies in their unspoiled natural habitat.
Feel free to bring snacks and drinks - and your camera! - for thetwo-hour tour. And, if your group is larger than 13, no problem. Simply contactWild Horse Adventure Tours to make special arrangements.
So Much to Do, So Little Time
You'll find countless additional ways to experience the Outer Banks with your larger group - from chartering a head-boat for inshore fishing to visiting the Roanoke Island Festival Park for a hands-on history lesson. Not to mention hiking through protected wildlife preserves, kayaking over the sounds, kiteboarding, surfing, sunset cruising ... you'll never run out of ideas!