Good Monday morning from the Outer Banks.   As this post is being published the sun is rising over the Atlantic ocean and we have yet another unbelievably beautiful day in store on the beach.  As the song by the Beatles says "Here comes the sun, and I say - its alright!"That is what comes to mind as well when we take a look at this week's Memory Monday photo submission which comes to use from Beverly Casey of Sanford, North Carolina who got away to the beach and stayed in "
Shades of Blue
" in Kill Devil Hills two weeks ago and send us this photo taken from the deck off of the master bedroom one morning.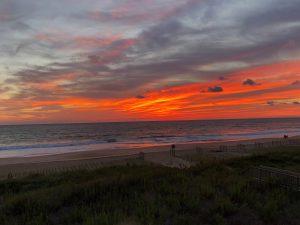 There is an old saying on the coast "Red sky in the morning - sailor's warning," but that was not the case for Beverly and her family as they enjoyed a wonderful week at the beach.   Lots of family fun and as she told us in her message attached to this picture "we loved our Kill Devil Hills oceanfront rental."This picture reminds us to tell you that you too can enjoy this sort of picture yourself because this is the same deck that hosts our company webcam!Take a look now at what is happening on the Kill Devil Hills oceanfront by
clicking here
.  The camera is located on the same deck where this photo was taken.We want to thank Beverly for her photo submission and let her know she is welcome back any time as you and your family are as well.   The weather looks good for another few weeks, and we have some great off season pricing available so give us a look today!When you do come to the beach don't forget to send us your photo memories just like Beverly did so you can see them right here on Memory Monday!All the best from the beach.