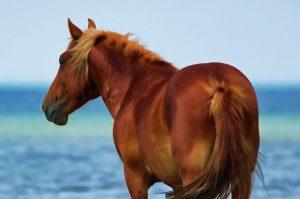 The Outer Banks has a long and illustrious horse history that has become a mainstay of our local culture. From spotting wild horses on the beach and working to preserve their place in nature to even adopting a Mustang, the Outer Banks is an equine lover's heaven.
Wild Mustang History
A sighting of the Wild Colonial Spanish Mustangs may be every traveler's favorite part of an Outer Banks vacation. For hundreds of years, the gentle, feral descendants of ancient equines have thrived on the Outer Banks. Because the wild horses have been carefully protected from domestication and up-close admiration, they can live much the same way they have for centuries.Wild horses can be seen along the entire coastline of the Outer Banks chain, including Ocracoke, Hatteras, Corolla, and Currituck Banks, but how did Spanish horses end up on a North American island chain? We can only theorize based on settler journals.According to one account, in 1521 a Spanish explorer named Lucas Vasquez de Allyon sent his men to explore the East Coast of North America. Some of these would-be colonists landed along what is now the North Carolina coast, coming ashore at Cape Fear and the islands of the Outer Banks. However, American Indians weren't interested in sharing their land with the Spaniards and promptly sent them packing. However, the Spaniards left their livestock behind — the ancestors of today's feral horses.
Wild Horses of Corolla
Perhaps the most famous wild horses live north of Corolla near Carova. These horses are free to roam the beaches and are easily spotted from a four-wheel-drive vehicle. This herd of 100 horses is thriving, and park services experts project their numbers will increase by 20% to 30% in the coming years.If you'd like to see the wild horses of Corolla, Corolla Wild Horse Tours or Wild Horse Adventure Tours can take you on an unforgettable off-road adventure. You'll ride in an open-air beach cruiser along Corolla's beaches to the wild horse sanctuary, where you'll be able to spot the Outer Banks' oldest inhabitants. These guided tours are a wonderful way to learn more about the history of the Outer Banks.You may spot small herds of wild horses anywhere in Corolla, so stay alert. In 1997 the Corolla Wild Horse Fund built two "sound-to-sea" walls to ensure that the horses didn't wander into congested areas where they could be harmed. The boundaries of this 7,500-acre sanctuary are near the Virginia state line and the Corolla border. Most the sanctuary is private land that includes homes and backyards. As a result, horses wander in and out of neighborhoods and along the wooded areas of public streets, so drive slowly and with caution. If you do spot them, remember it's illegal to get within 50 feet of a wild horse, and also it's harmful (and illegal) to feed them.Horse lovers will want to stop at the Corolla Historic Schoolhouse, headquarters of the Corolla Wild Horse Fund. The schoolhouse features a wild horse educational museum and museum store, and there is an additional museum store at the Corolla Light Towne Center. All proceeds from the museum stores go to the Corolla Wild Horse Fund to help preserve the horses' way of life.
Meet, Adopt, or Sponsor a Mustang
According to their website, the Corolla Wild Horse Fund was established to "protect, conserve, and responsibly manage the herd of wild Colonial Spanish Mustangs roaming freely on the northernmost Currituck Outer Banks, and to promote the continued preservation of this land as a permanent sanctuary for horses designated as the State Horse and defined as a cultural treasure by the state of North Carolina."In an effort to achieve those goals, the Fund offers three unique opportunities for Outer Banks visitors to participate in maintaining the herd.Meet, sponsor, and even adopt previously wild Mustangs that have been domesticated because they were injured, ill, or orphaned. For many reasons, these horses are unable to be reintroduced to the wild herd. If you wish to leave "your horse" in its natural habitat in the Outer Banks, you can sponsor him/her. Drop by the Fund for a meet-and-greet of Mustangs on almost every Friday or, for serious horse lovers, adopt one and take it home!Details about all three options (as well as information about their museum and the unique horse-related items sold in their store) can be found on the
Corolla Wild Horse Fund's
website.
Catching a glimpse of the majestic wild horse of the Outer Banks is one of the best parts of any Outer Banks vacation. Take a tour, pay them a visit or just wait patiently, and you'll be rewarded with an Outer Banks memory you'll never forget.