Diary of an Old Hurtin' Runner
So the 2008
OBX Marathon
has come and gone, but a week later it is still a lasting memory. Every time I try to get out of a chair I am reminded of how bad it hurts. It was the thrill of a lifetime however. Here's how I remember it going:
11/8/08
My daughter Mackenzie is ready to run the last 1.2 miles of her marathon at Kelly's Hospitality Fun Run at First Flight High School. I pick her and a friend up that morning and we head to the field. My youngest daughter Laine decided she wants to go get a medal too so I know what is ahead. 1.2 miles of me carrying my 5 year old on my shoulders. It should be a nice warm up for tomorrow' half marathon however so I'm down.
About half way through the race, Laine keeps saying "faster daddy", so I take off on a bit of a jog. Then, within 100 yards of the finish, I feel a twinge in my right leg. Hmmm. Maybe I overdid the training a little bit. No big deal...the important thing is Laine gets her medal from a pirate at the finish line and gets a pat on the head from Mr. Mike Kelly who is dressed in his pirate purple (ECU fan even at this event!)
My 14 year old son Connor and I are running together in the ½ marathon tomorrow and this time we have both vowed to stay together. This will be our 3rd half marathon together. I beat him by 3 minutes in the first one we did together, and he beat me by 5 minutes in the
Rock and Roll ½ marathon
in Virginia Beach this past Labor Day weekend. I need to go check on Connor at the Expo Marathon where he is volunteering to be sure he isn't over doing it. I don't want him worn out tomorrow morning. He is busy handing out T-shirts at the expo and having a good time. He tells me to come back at about 7 PM to check on him because he is going to help one of the vendors break down their booth when the event is over.
I grab a few of the pasta dinners at the
Kitty Hawk Baptist church
because the OBX Marathon Pasta Party is sold out. I go back to get Connor and who is still very busy helping out with breaking down booths. At 8 PM I tell him we have to go because we've got to eat and get to sleep.
6 AM. The alarm is so darn loud at 6 AM. Time to get rolling however. Got to get Connor up and get to the start line. Hmm...as I get out of bed I really regret the bad weather we had earlier in the week and the fact that I waited to get my last run in on Thursday morning instead of Monday or Tuesday as I normally would. Hopefully, I'll be fine.
6:40 AM We approach the 10 milepost on the US 158 in Nags Head and note that the traffic is backed up already for about a mile. So much for the idea of parking at the Nags Head Elementary School and walking over to the start line. I quickly hit the beach road with the car and hope for the best. As we creep closer to the start line I see that they are parking cars in a large vacant lot near the start line....the first good break of the day. We are in great shape suddenly. I see an old friend there parking cars who waves a friendly greeting and wishes Connor and me good luck. Pete Rudolf, a high school teacher with an optimistic outlook on life is the first of many friends we will see today.
6:50 AM Connor and I drop our gear bags at the UPS trucks standing by near the start line. Doug Leal is playing tunes from his D.J. location trying to get us all "warmed up." It is very cool. I think he is playing Jackson Browne...running on empty. Nice touch. Time to put on the gloves and make our way to the start line. It is cool, but not overly cold. Just perfect running temps, but the sun has only been up for about 5 minutes. It could be a hot one before this one is over.
6:52 AM A young lady, I didn't catch her name, is way too awake at this hour of the day and gives a spirited rendition of the National Anthem. The sound of the surf in the background and the high pitch of her voice gives me Goosebumps. Makes me proud to be in good health and live in this country. What a setting!
Connor and I got really trapped by the honor system of the corrals last year, so I know better than to stay back in the 9-10 minute corral. People either obviously cannot read or do not know their pace time. It was like running through an airplane aisle last year with all of the folks off pace. I really thought someone was going to get hurt last year because it was so congested with folks walking in front of those of us trying to run.
6:55 AM As we are making our way up to where we can at least see the start line I hear the announcer say something to the ef
fect of "ok here go the elite runners." And then BANG! The starter's gun goes off. I look at my watch and see we have 5 minutes before our start and start to give one last stretch. The announcer has, of course, Bruce Springsteen's "Born to Run" playing loudly on the speakers.
7:00 AM I didn't hear a gun but suddenly the line starts moving....OK...I guess we are off! 100 feet from the start line I see an attractive young lady holding a poster that says "Tight Buns are Sexy." Another one just behind her has a sign that says "only 13.1 to go!" There is a smart Alec in every crowd!
The left turn from the side street where the start line is onto 158 is really a neat scene. Hundreds of cars being held while the runners or in the case of the four women in front of me, the walkers make the turn onto the highway. I wonder how much the town of Nags Head is spending today in police presence and public works expenses. I find out later that it is more than $100,000 in time and overtime to properly staff the event. I wonder if the other towns in the county will kick in anything to help them defray the expense since
Nags head
the biggest responsibility of the Marathon as they have 10 miles of the marathon running along the by-pass and there is a lot more to the logistics for Nags head than any other town except for Manteo.
Mile 1 9:23 is our split time on the first mile. Connor and I have worked way too hard navigating traffic. I really don't understand why people don't know what their pace time is! There is no shame in running a 12 minute mile....just don't do it in front of the pack...it is dangerous. Connor has to jump onto the sandy shoulder about 3 times in the fist mile to avoid people, and I had to speed up and slow back down about 10 times in order to find gaps in the pack. We get separated several times in the first mile, but he is easy to spot with his yellow running shorts, so I catch up to him and tell him lets move to the left over to the center of the highway where we will have smoother sailing and less danger.
Mile 2 9:40 is the split time...we aren't setting any records, but this is a really good pace for us (2 hour half marathon), and traffic has smoothed out. I've run this race three times now and I'm still amazed about how many folks come out at this time of the day to cheer everyone one. Hard right turn coming up here on soundside road in front of the
Nags Head Baptist church
. I know they invited their entire congregation to come out and cheer the runners on so I'm interested to see how many folks are going to be there waiting for us.
As we make the turn there are about 30 people there. They have definitely had their coffee or the spirit of the lord is definitely moving them. I feel my pace quicken as they are yelling their lungs out. First water station ahead...better get it while the getting is good.
I have a terrible time drinking water from a cup while I'm running. I've run in four ½ marathons now and I still haven't figured out how to do it without slowing down to a walk or spilling the water all over the front of me when I drink from a cup because of the jostling. An idea came to me last night. I took one of my 5 year twin old daughter's
Bratz
sports bottle which holds about 8 ounces and I'm planning on pouring the water into the bottle and then drink. It may look dumb, but I think it will work!
It takes me about 300 yards to get the water in the bottle, but I'm very pleased with myself about ½ mile later as I haven't had to slow down, nor have I gotten my shirt all wet. This might work after all. It also keeps my mind occupied a little bit longer at each water station. Meanwhile I'm listening to my tunes....Akon and Eminem's "Smack That" is playing...good running song.
Mile 3 9:50 split. I'm calling out the splits to Connor, but otherwise we aren't talking. We've both trained in our own ways and both of us are internally concerned whether we've trained properly. I'm now listening to Lynyrd Skynyrd Free Bird and trying hard not to sing and thus embarrass my son completely. As we run along the sound I wonder if the party folks will be out this year. Sure enough as we turn the corner there is about 25 people right on the street with boom boxes blaring....signs telling us "only 10 miles to go" and "if ye stop...ye walk de plank" and my favorite...."if you ain't first, you're last." It is obvious most of these folks aren't drinking coffee. I wonder if the party is continuing from last night or if they started it extra early just for us.
We turn and head back east through South Ridge back to US 158 I start to feel like I'm not keeping pace. It may be the bright sunlight straight in the eyes at this time of the morning, or the slight breeze, but it just doesn't feel quite as good.
My friend Winston Hawkins blows past both Connor and I at about this time. "Looking good guys." Says Winston. He's smiling (as usual), and he is talking really loud because he has his ipod on and I don't think he realizes that we can hear him above the music in his ears. I'm thinking wow...I just don't have that kind of pace in me right now. Maybe I'll catch you later Winston. Go for it!
We pass the first set of port-a-potties. A line of folks wait, and I'm thinking to myself I'm glad I took care of that before the race. What a pace killer.
As we turn the corner at 158 and head south for the 5 mile stretch to Whalebone Junction I see that girl again "Tight buns are sexy." She is joined by another pretty friend of hers with a sign that says "I love #2452. Darn, wrong number!
Mile 4 9:55 split. At Nags Head Cove there is a huge water station. I mistakenly drink the first cup that is given me and it is Gatorade instead of water. Icky sweet Gatorade. Yuck. I grab water however and re-fill my bottle. Lots of water on the ground and lots of cups. I wonder to myself why races don't have more trash cans out and available for runners in the 100 or so yards AFTER a water station. They could cut down on picking up a lot of garbage if they had cans available. Runners don't like to litter, but many times there is no choice.
I look at my watch and we are now about 45 minutes into the race. Time for my first GU pack. I don't know who invented this stuff, but it is just nasty. Effective, but nasty with a capital N. The only kind I can stomach is "strawberry banana." I know you are supposed to slam the whole pack in your mouth, but I just can't do it. I suck it slowly and it takes me about 200 yards to down it all. I quickly wash it down with the water I filled up my cool Bratz water bottle at the last water station.
OK I'm good to go for a few more miles. I see my first Outer Banks Blue runner's poster on the highway at about this time. Cool. They look really good. I'm pretty sure I remember seeing these folks at the Marathon Expo booth on Friday night. Two little girls and their Dad cheering for Mom. Way to go Mom!
We run past the Outer Banks Mall, and I turn to Connor and say "you know the winner is going to be crossing the line in just a few minutes?" Great...we haven't even gotten to mile 5 and there is someone within sight of the beer truck. Kenny Chesney's "Beer in Mexico" is playing in my ear...fitting. I decide right then I am going to have a beer at the finish line!
We are now turning into the Village at Nags Head and you would have thought we were rock stars. The crowd at the entrance/turn was screaming at us as we ran by. Oh, there's another OBX Blue poster. Go Dad Go!
Mile 5 9:55 is the pace time. I really hate this stretch of the half marathon. It seems like we stay in the village forever, but it actually is only 2 miles. Lots of turns and winding roads however. Not a lot of folks out cheering us on either. There is one notable exception however as there is a law firm waiting for us at mile 5. All of the volunteers are wearing orange jump suits like they wear in jail. They have their boom box blasting, and they have a sign up that says "quitters will be arrested." Clever! The Eagles "Hotel California" is playing now on my ipod. You can check out any time you like, but you can never leave!
I notice the breeze is picking up a little bit from the west as we run through the Village at Nags Head. The bridge is looming 4 ½ miles away, and I think to myself, great...just what we need that damn bridge with a headwind. Folks talk a lot about how hard the bridge is on this course...I say the toughest thing about the bridge is that you start seeing it at mile #2 and you see it coming at you for 8 miles. 8 miles of thinking about how steep the grade is and how darned hard that concrete is.
Mile 6 10:05 pace. Ok we are falling off a little bit. No one cheering, 5 miles behind us, we are hitting the wall a little bit...I can understand all of this. What I can't understand is my right leg hurting. I was ready for my left ankle and left knee, but not my right thigh. My left ankle developed tendonitis in August, and it just won't go away. I'm wearing a brace that Dr. Chase prescribed for me (link to Outer Banks Orthopeadics), and the anti inflammatories are doing their job as well. I forgot to wear the strap on my left knee that flares up a little bit right on the patella tendon on long runs, but what in the world have I done to my calf. Could this be early signs of cramping?
I got cramps in the Outer Banks tri-athlon in the spring and they were awwwful. I would have traded my life for a banana that day. If this is any indication, I've got about three miles before I hit the wall.
We pass the clubhouse at the Village at
Nags Head Golf Course
and there is a guy trying to make a left turn into the parking lot. I'm thinking to myself "I hope you don't have a tee time any time soon buddy" there are about 4,000 runners behind me, and this is the ultimate payback for a runner (making a car wait on us)...there aren;t 10 people in this crowd who are going to stop to let you make that turn. You might as well turn your engine off ...it is going to be a while for you to make that last pitching wedge to the parking lot.
About 200 yards later I'm pleasantly surprised to see my friend Steve Archbell and his crew from
Bear Drugs
manning a water station. I grab a cup of water out of Steve's hands and say "Good morning Stevie. Thanks for being here." I see him later and he says "I'm happy I was where I was instead of where you were." I'm listening to Bon Jovi and Jennifer Nettles crank "you can't go home" at about this time.
That water station was one of the busiest on the course. Well placed, and I can't even imagine how much water they poured into cups there.
Back on the by pass a few minutes later and turning south. Whalebone Junction and the right turn towards Manteo is within sight!
Mile 7 10:10 pace. I've decided on this run I will be running miles in dedication and memory of people. Mile 7 is in honor of my youngest twin daughter Laine.
It was Laine that let me borrow her Bratz water bottle, but only after I promised to take good care of it. This is a tough stretch of straight road before we get to the turn towards Manteo. I'm thinking to myself about the qualities of my youngest daughter. One of the toughest minded people I've ever met. Some would say stubborn. She would not stand for me giving her any excuses about stopping or not doing my best, much less do anything to her Bratz water bottle. Pick up the pace Dad...you are falling off. John Mayer's song "Daughters" comes on at that moment, and I'm lost in my thoughts of my little girls.
Just about that time I come across the Village Realty People who are sponsoring this mile.
Music blaring and about 15 of them yelling loudly. I'm surprised to see my friend Bill Koebernick is cheering instead of running this year. He ran the half last year in just under 2 hours, but this year he is drinking coffee and yelling. I make eye contact with him as I run past. I think I said "Hey Bill', but I'm not sure. My mind is losing focus and I'm hitting the wall.
Right about here I see Aaron Toole from the
Outer Banks Visitors Bureau
pass us. Aaron ran the first half marathon with no training. He decided the day before the event to run it. I didn't do anything but wave when he ran by thinking "boy it would be nice to be 20 something again."
We pass Tanger Outlet mall and more OBX Blue posters on the side of the road. There are some distant looks not only in the runners' eyes by this time, but in looking at the folks on the side of the road I can see these folks are getting tired of watching people go by them who are not their runner. It is like standing on the side of the road and watching cars go by when you are looking for YOUR car.
We start to make the big left gentle turn at whalebone Junction in Nags Head. Mile 8 marker is just ahead. Just 5.1 to go! Lonestar's "Mountains" is playing on my ipod right now and I'm thinking that is fitting too...my mountain is just 1 ½ miles away.
Mile 8 10:20 pace. You've got to be kidding me. I'm not telling Connor our pace that mile. He just said "that one felt quicker." Maybe some water will help us out. Water station just ahead. I've got the Bratz water bottle routine down pretty well now, but darn it...I just bent the lip of it as I pried the lid back on. So when I lift the bottle to my mouth...guess what? Yep, it leaks all over my chin and on my shirt! I'd better get it fixed or I will face the wrath of Laine.
This mile is an easy one. Everyone is running in anticipation of the bridge which is coming up fast. One more water station just before the bridge and we are at the big challenge of the race. The breeze isn't strong, but what there is is straight in our face as we head west. As we approach the little bridge the nice couple that was next to the Outer Banks Blue booth at the expo run past Connor and I with well wishes. I thought it was really cool that they gave away a paddle board at the marathon expo and donated the proceeds to the dare education foundation. They looked like they were hardly breaking a sweat.
Speaking of sweat...I am just dripping. I've got to get these cotton gloves off. They are making me hotter than I need to be right now. Time for GU pack #2. Got to fight off my muscles cramping up because I lost too much water. I don't think I've been drinking enough. Only getting about 4 ounces at every water station. I should be getting twice that at least.
Mile 9 10:15 pace. Just past the little bridge on the causeway is the Beach Realty water station. Beth Urch hands me two cups of water and I seem to have done a better job getting the water in the bottle this time, and I think I've got 8 ounces this time. I hear the lid snap in place this time so I feel better about the water staying in this time around.
OK we are ready for this....the hardest mile on the course...it also has a name...The Washington Baum Bridge.
Oops...just ahead at the base of the bridge it is Winston Hawkins...he's got cramps. I can tell the way he is walking like he just stepped on a sand spur in his bare feet. That is a bad feeling. He is headed towards a sign where he can stretch it out some. I yell over to him "Hang in there Winston" as Connor and I pass, but I don't think he hears me...tunes are still cranking for him and me. Bon Jovi is playing "have a nice day" in my ear.
This bridge is so freaking hard it is unbelievable. Not the degree of difficulty, the composition of the material. All streets are hard, but this bridge is just dense. I feel like my legs are pounding the concrete like hammers on every step. Every step just reverberates through my body. I can actually feel it in my back as I run. There is a runner ahead of me wearing an extremely tight full body suit that is very motivating however. I've got to keep my pace to have her motivate me to the finish line. Ah, alas within a quarter of a mile it is clear that she can't keep the pace, and she drops behind fairly quickly and starts walking.
The walking thing is starting to run rampant through the crowd. The combination of the hard concrete and the big bump in front of us is taking its toll on everyone around us. We move to the left to get where we can pass some folks without having to dance to the right and left.
Here comes Winston again as we start the ascent on the high rise of the bridge. 'Hey Dudes' still hanging in there? Yep is about all I can get out right now. Meanwhile Winston sees someone else he knows about 10 people ahead and starts carrying on a full conversation with them. How does he do that? I am barely breathing and he's just smiling and chatting up everyone after he just fought off some bad cramps. What a show off!
Up the rise we continue, and I read in the running magazine where we are supposed to keep looking ahead and not down when running a big hill. Forget that...it is too hard. I'm looking down and focused on getting up the hill and tuning out to Michelle Branch "Are you happy now?' Well, no Michelle, I'm not too happy right now. I see Aaron Toole to my left as we make the ascent. He is one of hundreds of folks who have decided to walk the ascent to save their energy and then attack again on the back side.
What was that I just saw? Mile marker #11 at the top of the rise just passed me on my right. We made it to the summit! I wish I could enjoy the view, but I'd rather keep running than enjoy the view. There is one guy on the rail of the bridge stretching (cramps are rampant now as the temp is near 70 degrees now)...one of the more alert people around me says "don't jump it isn't worth it." Funny. Really funny.
Mile 11 10:45. Not a bad pace, especially since we are going down hill for the next ½ mile. Lots of folks pooped out going up the hill, but I'm doing ok I think. My only concern now is that my 14 year old rabbit is going to decide to dust me in these last two miles plus. Green Day's "Wake me up when September Ends" is on. I'm thinking wake me up at the finish line right now. Can I possibly make it two more miles without a cramp?
There's a water station right at the bottom of the bridge in front of
Pirate's cove
and there are lots of people there so we are in good shape, and then....BAM....cramp city. It goes off in my legs like a shotgun. Total lock up.
Oh my gosh I'm sorry I thought anything bad about all of those people that slowed down back there....please lord don't have this happen to me. I want to finish this thing with my son.
Connor takes off at the water station and I know he is not feeling sorry for his old man. He is off for these last two miles...just then I remember...I've got a banana in my fanny pack for this exact reason!
I open the pack and take a few bites, and it is like Popeye with spinach. The effect is nearly immediate. Good ole potassium! With 30 seconds I'm feeling much better and after I stretch out my legs quickly I am off to chase down my rabbit. U2's "Vertigo" is going to help me do it...unos, dos, tres, catorce...let's do it!!!
He looks back about 25 times over the next half mile, and I catch him before we get to the CVS at the Midway Intersection. Dare County Sheriff's deputies are everywhere at this corner, and one of their own is running just ahead to my left. They all give him high five hand slaps as he runs past. Cool!
Ok we are headed north now, and we have mile 12 in sight. We pass the best water station on the course...the last one! It looks like the Manteo high school cheer team is hosting it, and they are actually meeting the runners 50 yards before the water station and handing the runners the water very cleanly. There must be 25 of them and they are running back to the table to get water and then running up the course to meet the runners. Really a nice touch. No scramble at the table to get the water. Phil Collins "In the air tonight" is playing in my ear, and I know what is in the air is that there is no way we aren't making it in record time now.
Mile 12 10:05 is the pace. Exceptional considering that I walked/limped for about 300 yards, and then had to sprint to catch my son. I was obviously motivated to get going that mile. I wish I had that energy to use for the entire half. Now there is one mile to go, and I know there is nothing that is going to stop me now. I'm running this mile in honor of the person I always run my last mile for....my sister Debbie White. Debbie never got to see my twin daughters born as cancer took her three months before their birth. I can't believe it has been 5 years that Deb has been gone. She never got to see her grandson being born, her daughters graduate from high school, and so many things we all take for granted. No one fought Cancer harder or with more grace than my sister. I never heard her complain one time. When you asked her how she was doing her answer was always the same "I'm fine, tell me how you are doing?" I'm doing fine right now sis thinking about what a huge impact you had on my life and so many other lives that you came in contact with. I know you are with me as we get through this last mile together!
Connor is fading as we pass R.D. Sawyer Ford on the main highway. I tell him "you can smell the finish line from here Con....come on man...we are doing this together." The race took a different route this year. We turned at the old Manteo High School and ran on a new road that circled around the back of the school and past some new condos before turning on Fernando Street to the finish line. As we make the right on Fernando my right thigh is on fire. We are both breathing really hard, but there's only one more turn to make to the finish line.
We make the turn and both sides of the street are lined with people. The finish line is about 200 yards away, and I see Ed Futrell on the right pumping his fist and cheering the two of us on. I took my ear phones out and stop listening to U2 singing "with or without you" so I can hear my friend John Bennett on the P.A. calling names as the runners cross the finish line. It feels like we are in a dead sprint as we turn that corner, but we probably are barely walking, either way we pass about 10 people in that home stretch runners' kick. John must be reading names off of a computer screen that come up about 50 yards before the finish line because he has the ages, home towns, and names before people cross the line. Sure enough he calls out "...and From Kitty Hawk....Connor Cafferty 14 and his Dad Tim Cafferty 46 years old....the radio voice of the First Flight High School Nighhawks...way to go boys!!!" Talk about an announcement!!! Wow.....I reach over to my right and grab Connor's hand about 10 yards before the finish and we cross the line together in a dead heat with our arms raised together in triumph.
The clock says 2:19 as we cross, but that can't be right. My watch says 2:14:30. I'm going with my watch time...not as quick as I had hoped, but still a personal record for both of us. I find out later they started the clock when the elite runners went off five minutes early.
I pat Connor on the back as he is hunched over...."Way to go Buddy. That was awesome! I don't care how long I live...(gasp for air)...today (gasp).....was a day (gasp)....I will....never....forget! I ran a half marathon with my son step for step." He says "me too Dad....me too."
It turns out that Connor finished in the top 20 in his age group, and I finished in the top 60 in mine. Pretty good, but room for improvement for both of us next time. As I look at the split times later I see that virtually everyone in the field struggled in the same stretch that we did. The temps, the cramps, the wind all created a tough obstacle for every runner.
9:20 AM we walk through the finish area where I see Mimi Shrader from my office who volunteered to help at the finish line (insert picture). She gives us both our finisher's medal and we quickly go for the thermal blankets to try and cool down properly and get hydrated. I need a beer.
I know something is really wrong with my right
leg as we go to turn in our timing chips. I can't lift my right leg to get the timing chip off. There was a nice lady there willing to bend down and take it off for me. Thank goodness.
We head to the UPS trucks to get our gear bags and change into some dry clothes and see my old high school buddy Jake McLease. Jake yells across the parking area "Hey, Little Cafferty, did you smoke the old man?" Connor says he laid back so I could feel better about myself, and Jake says "that's a good son. You got to look out for us old people."
As we are in the changing tent a guy walks in and we make some small talk. We discover he just finished running the whole marathon. Talk about a let down. The two of us are feeling pretty good about our feat, and here's this guy....He ran twice as far as we did and he finished just behind us. He finished in 5th place in the marathon. He was impressed that Connor finished the half at just 14 years old. I was impressed that this guy wasn't even breathing hard and could carry on a conversation after running, and I mean RUNNING 26.2 miles! He had to have averaged less than 6 minute miles. 26 of them! That is the thing about runners...they are a great class of people. He made Connor feel like he was the most impressive athlete out there.
11:15 AM Connor has gotten a sandwich and although he is really tired, he is happy to see his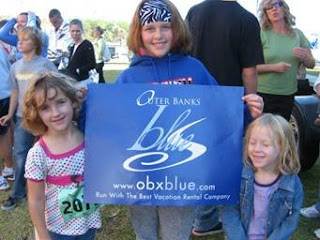 sisters show up and have them tell us how proud they are of us. It is about this time that I am walking in front of the stage in downtown Manteo with my oldest son and I take a misstep on the curb and my leg just goes dead. Ouch....that really hurt. I think I really did something bad right there.
Now a week later my right thigh really hurts. It turns out that I pulled a muscle and I did something to my hip flexor when I took that misstep. Again just another reminder that I am indeed not 14 years old any more, but at least for one day I ran like one. I can't get up from my seat still without using my hands to push myself up, and the first few steps are still a challenge.
Regardless, I did what I set out to do, and created a memory of a lifetime. Until next time!