Fun Family Times at OBX Marathon 2008
Well the 2008 OBX Marathon is in the books, and it was a great time had by all. Outer Banks Blue Realty Services served as an accommodations sponsor again this year, and the weekend started with a rollicking good time at the OBX Marathon Expo.
We gave out blank posters to supporters of runners on Friday and Saturday at the Expo and lots of folks came by our booth to get their posters, and have a good time.
The theme for the Marathon was centered on Pirates, and my team did a great job at the expo shaaaaarrring the Pirate Spirit of the OBX.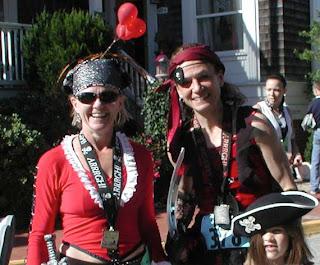 Legendary D.J. Les Humble played tunes all weekend long and did a great job keeping the crowd moving and grooving to tunes from the 80's, and 90's, and 80's, and more 80's. Haven't heard A Flock of Seagulls "I Ran" or M.C. Hammer "Can't Touch This" in a long time! Thanks Les!
It was a well run expo, and the registration was impressive. 5,002 people registered for the event. The parks and rec department did an outstanding job moving everyone through the building.