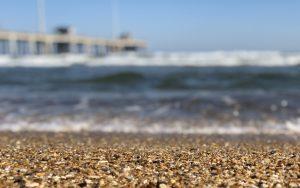 The Best Outer Banks Beach
For the Outer Banks, with its reputation of soft sand and beautiful beaches, there is an obvious question. "Which Outer Banks Beach Is The Best Beach?"Obvious question—yes. Obvious answer—no.The best beach isn't just a set of scientific criteria. Dr. Beach, Dr. Stephen Leatherman of Florida International University, has done that and his annual list of the 10 Best Beaches is widely anticipated. And Outer Banks beaches tend to do quite well in the rankings.Best, however, is a somewhat subjective term.Coquina Beach, as an example, on the south end of South Nags Head is a wonderful beach. Soft sand, wide area between the dunes and ocean, the facilitates, parking lot and beach are maintained by the National Park Service. But for a family of four with a toddler and a six-year-old, it may not be the best beach; the nearest restaurants and stores are five miles north around Jennette's Pier.Recognizing that best is based on what is best when it is being used, we have come up with our own Outer Banks Blue best beach list, based on who is using the beach and how it is being used.In ranking our rankings, we are only looking at public access beaches. Duck and Southern Shores have some of the best quality sand and a wonderful atmosphere. However, both are reserved for residents and property owners of the town and their guests.It's also important to note that because of beach nourishment, all Outer Banks beaches are wide with ample room between the dune line and surf. Beach nourishment is done to protect infrastructure, property and the shoreline. A happy byproduct is a wider, better beach.
Best Beach for a Family with Children
Ocean Bay Drive Beach Access, Kill Devil Hills & 
Jennette's Pier, Nags Head
Everything a family with young children could want is within quick walking distance to the beach at both locations. There's good parking—with a slight nod to Jennette's Pier, the beach is wide and the sand is soft. The showers, changing facilities and restrooms are very well-maintained by the towns.What really sets these two locations apart, though, is the easy access to two iconic Outer Banks convenience stores that carry everything from sunscreen to sandwiches. At Jennette's Pier it's Cahoons which has been in business for more than 55 years. In Kill Devil Hills the Stop N Shop has been just across the Beach Road from the Beach Access has been supplying beach goers for almost 30 years.Honorable Mention goes to the Kitty Hawk Beach Access. Like Kill Devil Hills and Nags Head, the town does a great job of maintaining their facilities. KDH and Nags Head get higher marks because there are convenience stores right there. Neither place, though, has burgers, fries, dolphin boats and milkshakes as good as John's Drive-in. A bit too far to walk from the access, but the one minute car ride is worth the experience.
Best Beach for a Couple
Coquina Beach, Nags Head & Currituck County Southern Beach Access
In the summer, couples hoping to get away from the crowds will find it challenging. Not impossible, but the most popular time of the year to visit the Outer Banks is the summer, and there are a lot of people here.Our suggestion—Coquina Beach and the Currituck County Southern Beach Access are the southern most beach entry points in their areas. Turn right—south—when your feet hit the sand, and the crowds will thin a bit. They won't go away, but there will be a somewhat more space for time with a special someone.Not quite as busy as July or August, the shoulder seasons are also an option. September through early October especially, daytime temperatures are still warm and the ocean water temperature ideal.
Best Beach to See Something Different
Carova
Where else can you swim in the surf with wild horses 75 or 80' away? Yes, there really are wild horses in Carova—horses that have been shown through genetic testing to be descendents of the Spanish Mustangs of the Conquistadores.No one is sure about the exact number, but the herd seems to be between 100-120. During the summer, when it gets hot, they go to the beach for the same reason humans do...to cool off.There are some really important things to know about Carova and the horses.First—these are truly wild horses. Local law and common sense dictates staying at least 50' away from them.About the Carova Beach—The beach going to Carova, which is on the North Carolina, Virginia state line, is a wide, wonderful beach. Or it would be if it wasn't also the road to Carova.The paved road ends 11 miles south of Caova. The only access is along the beach in a 4WD vehicle. In the summer especially, it gets very busy. The speed limit is 25mph—not everyone obeys that.
Best Beach with the Softest Sand
Any Corolla Beach & Coquina Beach
In Corolla there should be no problem finding a place to park and get to the sand. Currituck County has eight public access parking lots with plenty of parking available.Coquina Beach is the happy byproduct of beach nourishment.  It is a wider, better beach. On a warm summer day with the sound of the surf rolling in, the sand on every Outer Banks beach will be perfectly soft.
Best Beach for a Picnic
Any Outer Banks beach.
If everything is packed, Coquina or any one of the Corolla Beaches would be perfect. If drinks or last minute items will be needed, either one of our "Best Beach for a Family with Children" winners will work very well.A third option is the Kitty Hawk beach across the street from Winks on Ocean Boulevard. Winks is about as old-school Outer Banks as it gets, having survived various storms, nor'easters and many summers. Great sandwiches as well as drinks and sundry items. If the picnic fails, Art's Place, next door to Winks has excellent burgers.The only drawback to the site is there are no public restroom facilities.A cautionary note—the Southern Corolla Beach Access has great parking and outstanding facilities. However, it is also about 200 yards from the beach. The picnic basket may become heavy by the end of the walk.