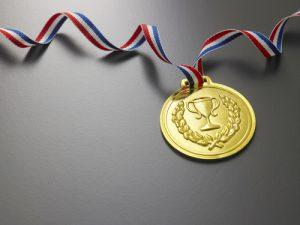 The Outer Banks beaches are no strangers to Best Beach lists all over the world. History, natural beauty, easy navigation and access, family-friendly activities, and beautiful beach home rentals are just a few of the reasons why the Outer Banks is regularly hailed by travel buffs. Check out just a handful of our many accolades below.
Best Beaches in America — Huffington Post
Huffington Post says not all beaches are created equal, and if you've been to the Outer Banks, you know what they mean. The shore at Corolla makes their list for being expansive and unspoiled, but it's the herds of wild Mustangs that cinched Corolla's spot on HuffPo's best beaches lineup.Corolla's wild horses are free to roam and are often spotted by equine lovers from four-wheel-drive vehicles and cruisers. However, because Corolla is part of a 7,500-acre wild horse sanctuary that runs to the Virginia state line, you may see these majestic feral animals anywhere in town. The majority of the sanctuary is on private land — read: in people's back yards — so it is commonplace to see horses wandering neighborhoods and streets.
10 Best Island Escapes You Can Drive To — USA Today
USA Today gushed about the Outer Banks in this year's edition of their 10 Best list. They cited history, adventure, and easy shoreline access along with miles of off-road beach, fishing, surfing, scuba diving, and other fun watersports."It's virtually impossible to get lost here," says the Outer Banks official website. "The ocean makes a pretty good landmark." The Outer Banks is an easy scenic drive from many Midwest and East Coast cities. If you're flying, the barrier islands are only 82 miles north of Norfolk International Airport or 192 miles west of Raleigh-Durham International National Airport.
#1 in Best Family Beach Vacations in the USA — U.S. News & World Report
"You can count on OBX to deliver great summer weather," writes U.S. News & World Report. Other reasons the Outer Banks was named their #1 in Best Family Beach Vacations in the USA? History, lighthouses, secluded beaches, rugged sand dunes, water sports, beach shops, and unspoiled beauty. For U.S. News, a lack of nightlife, crowds, and touristy activities is a big plus for the family-friendly Outer Banks.Indeed, summer days are a dream on the Outer Banks. Though the barrier islands get plenty of sunshine, temperatures remain in the low 80s through the hottest months, and Gulf Stream breezes keep these barrier islands much cooler than mainland beaches. As for our beloved beach shops, like everyone else we proudly sport our oval "OBX" stickers and faded Outer Banks T-shirts year after year.
10 Best Beaches for Families in 2016 — Family Vacation Critic
Family Vacation Critic knows that families dream and save for months for the perfect beach vacation, and the Outer Banks doesn't disappoint. Cape Hatteras National Seashore lands on their 10 Best Beaches for Families in 2016 list because of pristine beaches, calm waters, restrooms, parking, fun diversions, and beautiful vacation home rentals.The view of the Milky Way from the Cape Hatteras Lighthouse was also one editor's favorite. Visit the lighthouse at night (you can climb the 250+ steps only on full-moon nights) to watch the beam of light reach 26 miles out to sea. It's only when you see the lighthouse at night that you realize how important the lighthouse is, and how many lives it has saved in its 146-year history. And yes, on a clear night you'll also get to see thousands upon thousands of stars.
Your 6 Favorite Beaches — The Weather Channel
The Weather Channel named Cape Hatteras as one of its readers' favorite beaches thanks to excellent surfing. Then, in true Weather Channel fashion, they proceeded to tell us exactly why the surfing is so awesome here. In one of the best beach award explanations of all time, The Weather Channel writes that the "tasty waves" that surfers love are created by swells coming across the Atlantic, combined with the collision of two Atlantic currents just off of Cape Hatteras, and shallow sandbars that extend up to 14 miles offshore. In fact, the wind and waves at Cape Hatteras were tasty enough to lure weatherman extraordinaire Jim Cantore for his first kitesurfing lesson.Cape Hatteras is known as the East Coast capital of surfing, and is a popular spot with both surfers and kitesurfers. Cape Hatteras also happens to be a good place for surfing newbies to learn. The waves are usually consistent, slow, and small, and the bottom is soft and sandy in most places. If you just want to watch the experts, surfing competitions frequently launch from the site of the old lighthouse.We know our Outer Banks beaches are best in the world, and we're always honored to find out others think so, too.