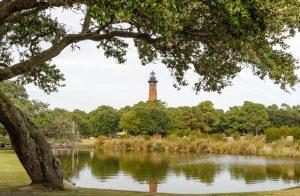 Curious about the Outer Banks islands? You're not alone. The Outer Banks, as a whole, stretch across 130 miles along the North Carolina coast. However, each island has its own personality. Here's an overview to share a few insights that will allow you to choose the best spots for your Outer Banks vacation.For basic orientation, the string begins in North Carolina at Carova to the north and ends at Okracoke Island and Portsmouth Island to the south. If you look at an Outer Banks map you'll notice how far the islands extend into the Atlantic Ocean. In part due to the separation from the mainland, and in part due to the unique history and geography, each of the barrier islands has its own culture.
Carova, Corolla, and Knotts Island
The northernmost section of the OBX is Carova. This area includes beautiful and secluded Carova Beach, Corolla, and Knotts Island. Carova and most of Knotts Island can only be accessed by boat or four-wheel drive, making it the perfect spot for those who really want to get away.Carova has stunning ocean views and luxury beach rentals. There is a sense of isolation, but you'll also have easy access to Carolla's grocery store, restaurants, and gear rental agencies. Keep your binoculars handy if you're hanging out on the beachfront patio - you may spot the famous wild mustangs having a sunset stroll. Though legally you're required to stay 50 feet away from the wild horses, many visitors have reported horses nosing around their yards and front porches.If you have come to the Outer Banks to see the famous wild horses, stay in nearby Corolla and plan a day trip to Carova. Corolla is best for beginning surfers and beach lovers, and has a few restaurants and shops. Love the idea of the simplicity of times gone by? Stay on the northern islands.
Bodie Island
Bodie Island has changed over time into a peninsula due to years of shifting beaches, but it has retained it's originally name for the area. It includes the notable towns of Duck, Southern Shores, Kitty Hawk, Kill Devil Hills, and Nags Head.If you've come for history or watersports Bodie Island will keep you as busy as you want to be. Duck is a quaint "new" town built mostly to accommodate vacationers, and it's a no-fail choice for first timers. Duck will keep you happily diverted with cultural events, high-end restaurants, shopping, and a scenic boardwalk.The rest of Bodie Island is famous for its place in aviation history and the busy Jockey's Ridge State Park. Kitty Hawk, Kill Devil Hills, and Nags Head have a variety of restaurants and shops, ample beach parking, and bathhouses near some boardwalks. For kite boarders and windsurfers Jockey's Ridge is a pilgrimage. Even if you're not that daring it's fun to see the giant sand dunes and watch the more adventurous zip across the waves.Bringing your dog? Duck and Nags Head have the most dog-friendly beach rules.
Roanoke Island
Roanoke Island includes the small towns of Manteo and Wanchese. These villages are pedestrian-friendly and offer watersport gear rentals, events, restaurants, and wonderful, wide beaches. Roanoke Island has a legendary history that you'll feel immersed in it as soon as you arrive. It is also a good midway point if you want to take in both the north and south islands of the Outer Banks chain.
Hatteras Island
Hatteras Island encompasses the vacation-friendly towns of Rodanthe, Waves, Salvo, Avon, Buxton, Frisco, and Hatteras. Several towns (Rodanthe, Waves, Frisco, Avon, and Salvo) are small with basic provisions nearby and Nags Head just a short drive for anything more you might need.If you're looking for a quiet place to unplug, Rodanthe is the place to do it. Buxton is also low-key and is the home of the famous Cape Hatteras Lighthouse. If you surf, the Atlantic side of Buxton and Hatteras has the biggest waves in the Outer Banks. The sound side of Hatteras Island is a haven for other watersports. The larger town of Hatteras has the most activities and rentals for vacationers, and is a popular destination for anglers.
Ocracoke Island
What Ocracoke Island lacks in square mileage it makes up for in history. Remote and reachable only by ferry, private boat, or private plane, visitors to Ocracoke Island will find there are enough restaurants, shops, and activities to make a nice vacation. History lovers will appreciate the British cemetery, the old fort, and a visit to the site of Blackbeard the pirate's last stand.Even though roads connect the islands of the Outer Banks of North Carolina, each has managed to develop it's own culture. No matter which one you choose, you're sure to enjoy your foray into the fascinating history and unspoiled beauty of this special place.