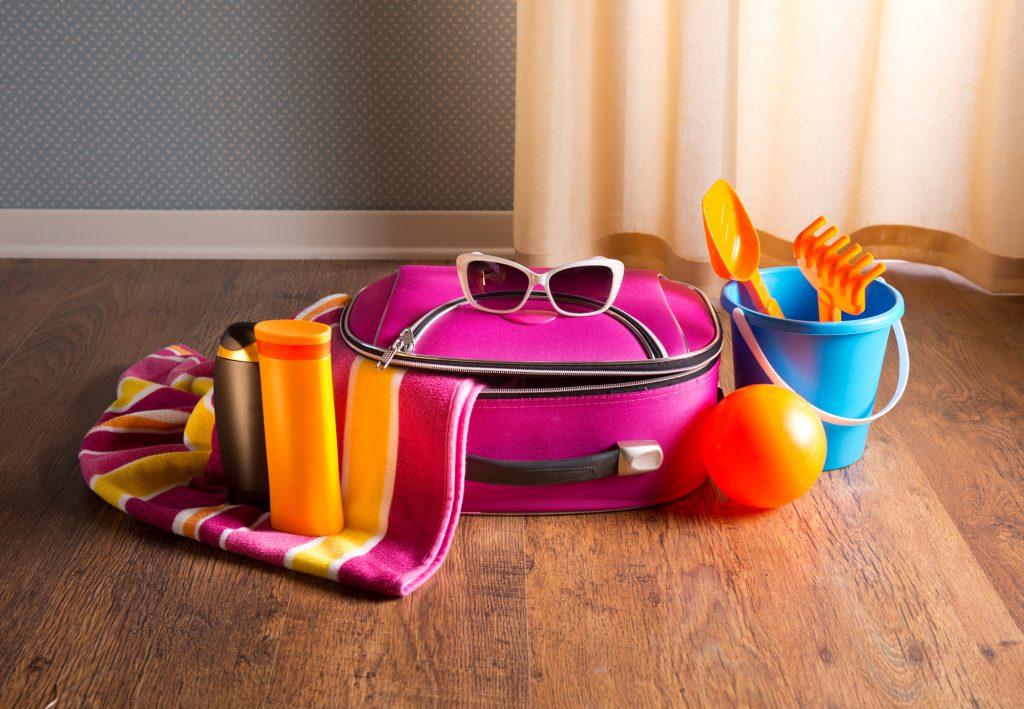 Remember the old scouting motto, "Be prepared"? It comes in handy when you're planning your Outer Banks family getaway. After all, the better equipped you are, the more you'll minimize inconvenience and maximize your fun.
No, you won't have to knock yourself out prepping for your vacation. But naturally you'll want to take some time to figure out exactly what you'll need.
It's simple! And, to make it even easier, here's a convenient checklist you can follow as you plan and pack.
Basic Stuff to Bring to Your Outer Banks Rental
Whether you're vacationing as a couple, with family, or with friends, you'll want to tote along these essentials:
Toothbrushes
Toothpaste
Dental floss
Soap
Deodorant / antiperspirant
Shampoo and conditioner
Combs and brushes
Hair dryers, curling irons, flat irons
Haircare products
Prescription and over-the-counter medications
First aid items, such as ointments and bandages
Batteries for cameras and electronics
Plug-in chargers
Contact lenses and related supplies
Pajamas
Underwear
Phones, tablets, and laptops
Computer games
Board games
Of course, you'll also want to bring along beach-friendly clothes and accessories such as:
Swimsuits
Shorts
Jeans and khakis
T-shirts
Polos
Sundresses
Sandals and/or flipflops
Dressier slacks, shirts, and dresses for dining out at nicer eateries
Light jackets or sweaters to keep you warm when cool winds stir (or when restaurants ramp up the air conditioning)
Most rentals provide kitchen/bath towels and linens, so you won't need to pack those items. Most also supply dishes, pots, pans, silverware, kitchen utensils, and small appliances such as blenders, toasters, and microwaves.
Sun, sand, and surf are all wonderful, but they can take a toll on skin and clothing. So, if you have room in your vehicle, bring along:
UV-blocking sunscreen
Sunglasses
Sun-blocking visors or beach hats
Sunburn cream or gel
Lip balm
Hand sanitizer
Small first-aid kit just in case
Cover-ups and/or an extra set of dry clothes for each child
Plus, don't forget the fun stuff - the items you'll want to have on hand for the ultimate beach experience:
Big, fluffy beach towels
Big, roomy beach bag(s)
Beach blankets
Beach and water toys, including inflatable floats and life vests for the little ones
Snorkels and fins
Ice-filled cooler packed with water bottles, juice pouches, snacks, etc.
Books and/or Kindles
Digital camera (or simply use your smartphone)
Portable chargers
Water-safe shoes
Own a van or SUV with extra storage space? Consider bringing along some comfy beach chairs, a beach umbrella, perhaps even a pop-up cabana. Also pack any yard games you like to play, such as cornhole, volleyball, and badminton sets.
And, if you plan to picnic on the beach,
fill your beach bag with paper napkins, flatware (reusable or disposable), paper or plastic plates, drinking cups, and so on. After lunch, dispose of all trash in designated receptacles.
Essentials for Babies, Seniors, and People with Special Needs
Have a baby or toddler in tow? Stock up on:
Diapers and diaper bag
Portable changing mat
Creams and lotions
Stroller
Baby seat
Baby toys
Baby wipes
Hats and visors to screen baby's face from sun
Portable crib/play yard
Plus, if you're traveling with seniors or folks with physical challenges, pack any special equipment they'll need, such as:
Canes
Walkers
Wheelchairs
Shower benches
Personal protective devices
Don't Forget Pet Supplies
Many OBX rentals will accommodate pets (especially dogs). Outer Banks Blue, for example, currently has over 90 dog-friendly rentals. So, after checking to make sure your unit permits pets, feel free to bring Fido along for some paw-some fun in the sun.
You'll need to furnish your own pet stuff, though, so take care to pack:
Dog food
Pet bed
Pet meds
Treats
Dog toys
Doggie food and water bowls
Zip-lock bags for disposing of doggie doo
Vet and vaccination records, just in case
Plus Hiking and Bicycling Gear
Ready to hit the trails? You're in luck. The Outer Banks offer countless opportunities for invigorating hiking and biking through gorgeous maritime forests, along shimmering ponds and marshes, and over pristine, towering sand dunes (the tallest on the East Coast!). Just take care to come equipped with essentials such as:
Bug spray
Sturdy hiking shoes or sneakers
Backpack for your first aid, water bottles, camera, phone, sunscreen, etc.
Your own bicycles (or, you can rent bikes from local shops)
Gear Up for Watersports, Too...
If you own a kayak, canoe, paddleboard(s), or surfboard(s) - and you can fit such items in your vehicle - then, by all means, bring them along.
No room in the van? No problem. Many Outer Banks watersports outposts offer equipment rentals.
What about engine-powered watercraft? Most Outer Banks towns will allow you to operate your motorboat on the ocean, the sounds, or both, although restrictions do apply (which vary from town to town). Most also offer public-access boat ramps plus marinas for docking your vessel. So, feel free to hitch your craft to your car before heading to the OBX. (You can also rent motorized watercraft from a number of Outer Banks companies.)
Love to fish? Feel free to bring along your own rood, reel, tackle box, and cooler... or rent/purchase once you're here.
...And for Sightseeing as Well
Whether you're climbing the stairs of a legendary lighthouse or touring the site of the Wright Brothers' famous first flight, you'll want to dress for the occasion - with light clothing, sun hat, and durable closed-toe shoes.
Forget Anything? No Worries!
Left toothpaste or toddler toys at home? You'll find all the necessities you require - and then some - at various Outer Banks groceries, drugstores, and other retail establishments.
So, what are you waiting for? Plan, pack, gather the fam, and head to the NC Outer Banks!