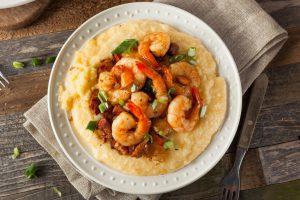 When the Wright brothers were conducting their aviation experiments in Outer Banks in the early 1900s, food was scarce. There was only one grocery store in the area, and it usually had bare shelves. Orville Wright complained that he was living on condensed milk, one spoonful at a time. Orville would be delighted to know that today his beloved home has a reputation for some of the finest food on the Coast.Though Orville went hungry, other Bankers did a better job of making do with what was around them. Potatoes and onions grew well in the sandy soil, and they kept over winter in dry storage. These root vegetables still the basis of Outer Banks soups and stews.Red meat and dairy were of little interest to Bankers because they couldn't be kept without cold storage. That's why you won't find cream in North Carolina chowders. However, wild boar was common, so bacon was occasionally on the menu. Why is there so much corn in Outer Banks cuisine? Fishermen would trade shrimp to inland farmers in exchange for corn, which their families used in recipes and corn-based quick breads.Bankers largely subsisted on clams, oysters, small oily fish such as herring, and larger fish such as drum. Fish was usually prepared boiled, though small fish were preserved through salting.Outer Banks cuisine has a distinct flavor that is tied to the history of the islands and the people. Modern cooking techniques and the availability of spices likely made improvements on early 20th-century recipes, but the heart and soul of traditional Outer Banks food has endured.When you're in the Outer Banks, try local dishes and take advantage of daily specials, and you'll be eating the way Bankers have eaten for over a century. If you're temporarily exiled from the islands while planning your next vacation, here are some of our favorite local recipes:
Sam and Omie's Clam Chowder
7 strips bacon
2 cups chopped onion
2 cups chopped celery
4 pounds diced potatoes
8 to 10 cups clam juice
4 cloves chopped garlic
1 dash Italian seasoning
Salt and pepper to taste
8 to 10 cups chopped clams
Brown bacon (remove from pot), and then add veggies, garlic, seasonings. Wait until everything softens, then add clam juice. Bring to a boil, and add potatoes and chopped clams.
Recipe courtesy of Sam & Omie's Restaurant in Nags Head, an Outer Banks favorite since 1937
.
Mild & Tasty Shrimp & Grits
3 slices bacon
2 tablespoons butter
1 pound shrimp (large, peeled, deveined)
2 tablespoons finely chopped onions
4 Jimmy Dean Turkey Sausage patties
1 can chicken broth
1 teaspoon garlic powder
1 teaspoon Old Bay Seasoning (or more if you want more heat)
Pepper (to taste)
1 tablespoon corn starch dissolved
1 green onion
For grits, you can use instant or quick cooking. Prepare 4 servings according to directions, but substitute half the amount of water with half-and-half. Add 1 tablespoon of butter to the four servings combined. (If cooking instant grits, add ¼ tablespoon to each cooked packet.) If grits get too thick, add more water.Cook bacon in a skillet on medium heat until crispy. Place bacon on paper towel to drain; leaving the drippings in the skillet. Add 1 tablespoon of butter and the onion. Sautee until onions are soft.Sprinkle shrimp with garlic powder and Old Bay. Set aside.Chop the sausage patties and add them to the skillet to brown. Add shrimp and ¼ cup chicken broth to skillet. Gradually add the rest of the broth and bring to a boil. Add cornstarch dissolved in ¼ cup of water to the skillet. Season with pepper, more garlic powder, and Old Bay to taste.Layer grits on a plate or in a bowl. Add shrimp/sausage mixture to top of grits. Sprinkle with crumbled bacon and chopped green onions.
Shrimp Newburg
1 pound shrimp
1 tablespoon of melted butter
1 teaspoon lemon juice
1 teaspoon Old Bay seasoning
1 (10 ¾ ounce) can condensed cream of shrimp or cream of chicken soup
¼ cup sherry or white wine
1 (3-ounce) package cream cheese
Hot pepper flakes to taste
Cooked rice or pasta (enough for 4 people)
Add the lemon juice to the melted butter and stir until combined. Allow to cool slightly.If using whole shrimp, peel, devein, and remove tails prior to cooking.Sprinkle shrimp with Old Bay. In a skillet on medium-high heat, add lemon butter. Add shrimp and stir to cook until opaque and pink. Add soup and sherry (or white wine). Cook until combined. Add cream cheese and stir until combined. Sprinkle in red pepper flakes to taste. Start with just a few (¼ teaspoon) and add more until you get the desired amount of spiciness.Spoon over cooked pasta or rice and serve.