Bodie Island Lighthouse
Planning a Self-Guided Coastal Lighthouse Tour on the Outer Banks
Way back in colonial days, lighthouses were built to warn sailors of dangerous coastlines - whether it be rocky shores that would tear the hulls of ships or dangerous shoals (like those in the Outer Banks) that caused ships to run aground or wreck.
Despite the use of global positioning systems (GPSs), many of these structures stand proud today and still give exceptional service to boat captains who appreciate their steady beams.
Looking for things to do on the Outer Banks? With a wealth of history and beauty, touring these iconic symbols makes for an awesome day trip for you and/or your family.
Depending on how much time you have and what your starting location is, you can plan the stops in logical sequence.
Currituck Beach Lighthouse
As the lighthouse positioned furthest north (in Corolla), this would be a good starting point if you want to make your way straight down the coast.
Constructed from approximately one million bricks (that remain unpainted to distinguish this lighthouse), the Currituck Beach Light Station was originally built to warn mariners away from the sound. This coastal lighthouse has a beam that projects for approximately 18 nautical miles.
With walls that are between three feet to five and a half feet thick, this landmark was built (like most lighthouses) to save lives. According to the Currituck Beach Light Station website, "As it had reported in previous years, the U.S. Light-House Board in 1872 stated that ships, cargoes, and lives continued to be lost along the 40 miles of dark coastline that lay beyond the reaches of existing lighthouses. Southbound ships sailing closer to shore to avoid the Gulf Stream were especially in danger. In response, construction began on the Currituck Beach Lighthouse in 1873 with completion two years later."
As you climb the 220 stairs, there are educational signposts that offer interesting facts about the property. There are also exhibits and a museum on site where you can buy books, souvenirs, clothing and more.
Traveling from the Currituck Beach Lighthouse along NC-12 South to US-158 East (for about 43 miles) will take you to another historic landmark with a rather rocky past.
Funds for the original Bodie Island Lighthouse were appropriated in 1847, but complications with buying the land needed for the project caused construction delays until 1847. However, problems with an incompetent project overseer (Thomas Blount) resulted in a lighthouse that - after two years - began to lean. After numerous attempts at costly repairs with no success, the structure was abandoned in 1859.
A second lighthouse was built in that same year. It, unfortunately, met its end when Confederate soldiers (fearing the 80-foot-tall beacon would be used by the Union) destroyed it in 1861. Perhaps the old saying, "The third time's the charm," is true, because a final structure, on a 15-acre site, was completed in 1872 and that lighthouse is the one that still stands today.
The National Park Service reports, "The building now serves as a ranger office and visitor center for Cape Hatteras National Seashore. The most recent restoration of the lighthouse itself was completed in 2013. Still a functioning navigational aid, the tower is open for public tours."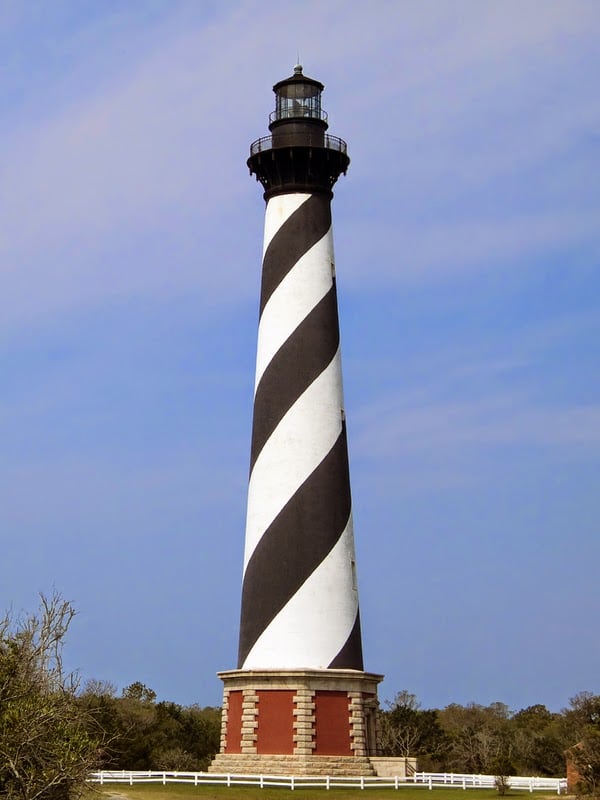 Cape Hatteras Lighthouse
Continuing on NC-12 South for another 43 miles brings you to the original Outer Banks lighthouse. Designated to protect ships from the "Graveyard of the Atlantic," the first lighthouse - powered by whale oil - was lit in 1803. With colors that blended into the landscape and a height of 90 feet that was too short to project the beam sufficiently, renovations had to be made. The need for extensive repairs came soon after and Congress chose to build a new lighthouse.
Standing almost 200 feet tall and sporting its famous black and white stripe daymark, the new project was completed in 1870 using a floating foundation. With 269 steps, the current building is operated by electricity and photocells that turn the light on and off automatically.
These are three of the most popular coastal (tall) lighthouses in the area. There are others including Cape Lookout and Oak Island. Ocracoke and Bald Head Island are harbor lighthouses which are tall, but not as stately as coastal structures that must have height to project their beams far out to sea.
Roanoke River, Roanoke Marshes and Price's Creek are shorter (river) lighthouses that are also worth a look. Like coastal and harbor lights, these help guide those who travel local rivers.
Bring your camera. Along the way you'll discover some amazing coastal scenery that's truly photo-worthy. With shops, restaurants and other attractions, taking a self-guided lighthouse tour is sure to top your "things to do on the Outer Banks" list.