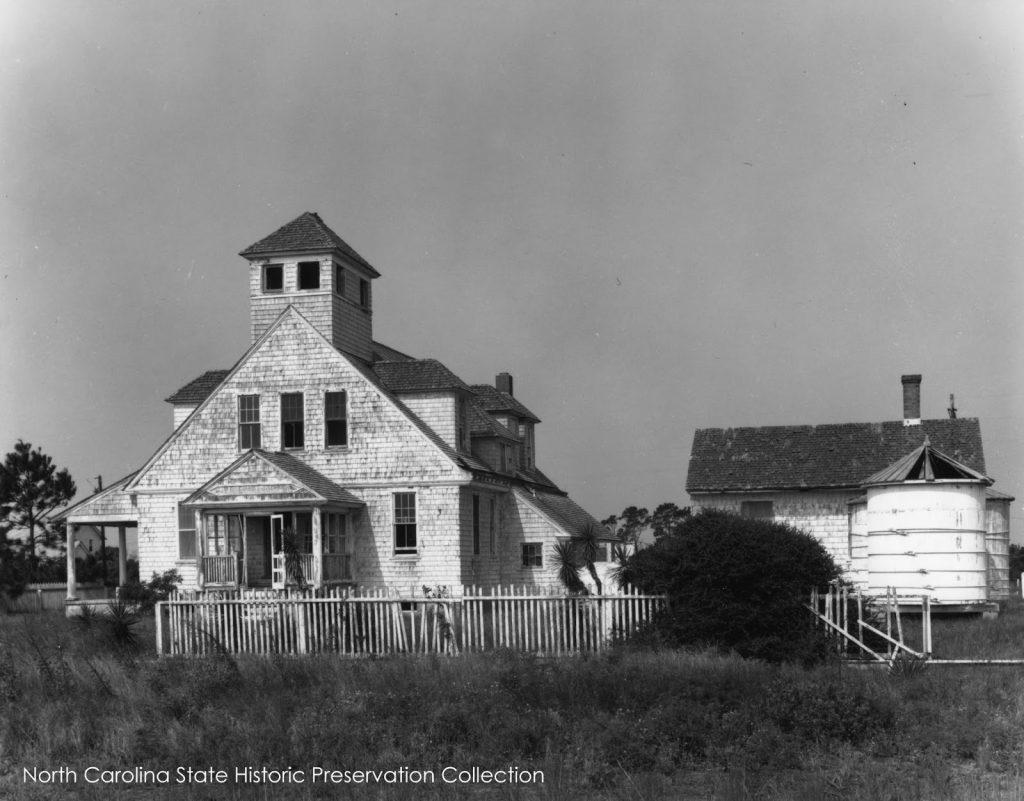 Long ago, the northernmost tip of Hatteras Island was covered with maritime forest. Here Native American settlers lived in prosperous villages, sustained by the region's abundant fish and game.
Their densely wooded settlement was known as Chicamacomico - pronounced chi-ka-ma-COM-i-co - which means "sinking down sand." For hundreds, maybe thousands, of years, these First Settlers flourished in peaceful isolation.
What happened to them? Nobody really knows. Some say they moved on to more remote areas once English settlers arrived. But, according to documents dating back to the 16th century, the natives actually welcomed the English and worked with them side by side. So, perhaps the two groups simply mixed, mingled, and intermarried. Which means that some of today's Outer Banks residents may well be descended from those early Amerindians.
Throughout the 1700s and 1800s, as more British settlers arrived, three separate villages formed, known collectively as the Chicamacomico Banks. Eventually these villages became the towns of Rodanthe, Waves, and Salvo.
Today much of the original forest is gone. But the peace, serenity, and natural beauty remain. So, if you're seeking a tranquil getaway in a stunning seaside setting, you've come to the right place.
Welcome to the Tri-Villages, the Outer Banks' Hidden Haven
Bounded by Pea Island National Wildlife Refuge to the north and by Cape Hatteras National Seashore to the south, this Tri-Village area literally cannot expand. As a result, it's largely free of the commercial hustle-bustle you'll find in some coastal resorts.
Yes, you'll have easy access to convenient shopping and delectable dining. But you won't encounter noisy crowds, tangled traffic, or huge high-rise hotels. And we're pretty sure you won't miss them.
Still, make no mistake, these three charming towns offer more than just peace and privacy. Their beautiful beaches provide pristine white sand, sparkling blue water, balmy breezes, and breathtaking vistas, both ocean-side and sound-side. Plus, they're famous for all kinds of watersports, from kayaking to kiteboarding, windsurfing to parasailing... and, of course, phenomenal fishing.
Rodanthe (Population 261)
The largest of the towns is Rodanthe (pronounced Ro-DAN-thee). Jutting out far out into the ocean, it's the easternmost point in all of North Carolina. And, with the Atlantic on one side and Pamlico Sound on the other, it's a magnet for water enthusiasts.
Come explore family-friendly attractions such as:
The Chicamacomico Life-Saving Station at 23645 NC Highway 12. First built in 1874 to house the brave surfmen who risked their lives to rescue storm-tossed sailors, it later became one of the foundations for the US Coast Guard. Today you can take a self-guided tour of the station's five exhibit buildings, where you'll discover everything from a famous surfboat involved in a daring WWI rescue to an authentic surfmen's cook house, restored 1907 lodging house, lookout tower, and more. Visit anytime Monday through Friday, April through November, between 10 a.m. and 5 p.m. You'll agree that the whole fascinating experience is well worth the modest admission charge.
Rodanthe Pier at2451 Atlantic Drive. Famous for world-class fishing, this legendary pier extends a full 700 feet out into the ocean. Depending on the season, you and your family can reel in choice gamefish like mackerel, mullet, croaker, spot, drum, cobia, and more. No license is required, but modest fishing fees apply: $12 per day for ages 11 and up, $7 for children 10 and under, $15 for live-bait fishing (pin rigging), and $2 for sightseeing only. Stop in at the Pier House to stock up on bait, tackle, snacks, and drinks. If you wish, you can also rent or purchase your rods and reels here.
Radikal Kite & Jetski at 24202 NC Highway 12, open April through October. Never tried kiteboarding or jet-skiing? Come here for hands-on lessons, customized to your needs. Radikal provides all the gear you'll need, from wet suits and water booties to helmets, kites, and skis. Already a seasoned watersports enthusiast? Visit Radikal to rent jet skis, surf boards, stand-up paddleboards, and more.
At just under half a square mile, Waves is the smallest of the Chicamacomico Tri-Villages. But it's surprisingly big on family fun and adventure. Crisscrossed by cooling breezes and bordered by beautiful waves, it offers endless opportunities for wind-powered watersports.
Come to Kitty Hawk Kites at Mile Post 40, 24502, Highway 12 - the world's largest hang-gliding school - to learn how to soar above sea and sand for airborne thrills and awesome bird's-eye views. You can also take kiteboarding lessons, rent and purchase watersports gear, and shop for gifts and apparel.
Nestled at the far southern end of the Tri-Villages, Salvo boasts public-access beachfront on both sides, with pounding surf to the east and serene sound waters to the west. Visit Salvo Beach and the Salvo Day Use Area to enjoy sunning, surfing, swimming, boating, birding, or just strolling by the shore. Plus, be sure to drop by the Pea Island Art Gallery (27766 NC Highway 12), where the works of more than 100 gifted local artists are on display year 'round.
The Tri-Villages Are Just the Beginning
You'll discover a world of adventure in the NC Outer banks. Pack your bags, gather your family, and head off to our magical coast.