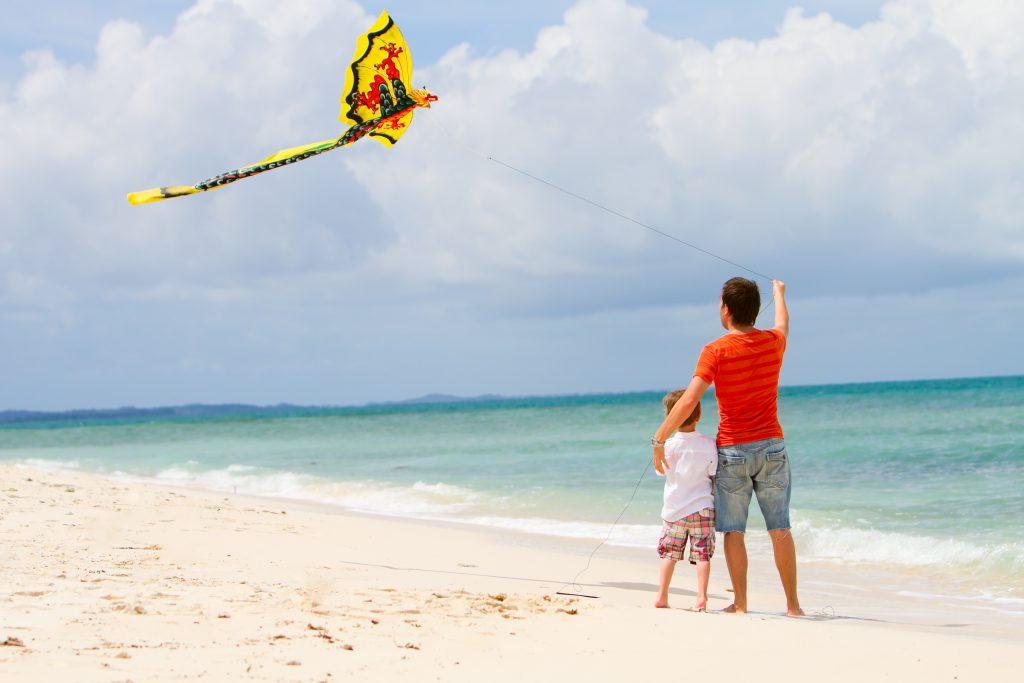 While winter has its virtues, those of us who prefer tank tops to sweaters crave warm temps. If you're counting the days until spring, here's something for you to look forward to.
Spring is the perfect season for an OBX getaway. Temps are warm but not torrid. Flowers are blooming. Restaurants are re-opening, and summer crowds haven't arrived yet, so you'll have miles of pristine beachfront practically to yourself.
What can you expect during an Outer Banks getaway in March, April, or May? Here's a brief guide to weather, flora, fauna, fishing, safety, and more.
What Are Spring Weather Trends in the Outer Banks?
In March, average daily high temperatures range from 55º to about 62º F with lows around 44º-46º. Monthly rainfall averages between 3.5 to 4.5 inches, but there's plenty of sun in between. Humidity gradually inches up to 20-30%, still low and comfortable. Wind speeds dye down, but are gusty enough - at around 14 mph - to power plenty of sailing, kite flying, hang gliding, and parasailing.
Throughout April, average daily highs rise steadily, from 62º F on April 1 to around 70º on the 30th, with average lows from 48º to 56º. Skies are clear, mostly clear, or partly cloudy more than 50% of the time. There's less wind, less rainfall - decreasing from 3.3 to 3 inches by April 30 - and more hours of daily sunlight. Humidity is rising, but it's still in the comfortable range.
In May, temps jump to the mid-70s and even into the 80s. Cloud coverage increases a bit, but clear and mostly/partly clear skies still prevail more than half the time. The average rainfall is around 3 inches. Meanwhile, humidity is rising - up to 42% by month's end - but that's still dry and pleasant.
What Trees and Shrubs Are Flowering?
Spring in the Outer Banks offers an eye-popping spectacle:
In March, forsythia bushes blossom, crocuses and daffodils bloom, and delicate wildflowers dot the coastal landscape
In early April, redbud trees put on their dazzling purple show
By mid-April, dogwoods are covered with dainty white blooms, and azaleas are laden with pink, red, and fuchsia flowers
In May, rhododendron begin to bloom, followed by vivid hydrangeas
Which Birds and Animals Can You Expect to See?
Throughout March, you may still spot a few migratory wildfowl - Geese, Coots, Grebes, and Tundra Swans, along with a wide range of ducks. But by April, these seasonal visitors have already left for points north. Now songbirds, shorebirds, and wading birds fly in to take their place.
Check out the Outer Banks waterfront, sound-side shallows, Pea Island Refuge trails, and other natural haunts to glimpse beloved birds including:
Great Blue Herons
Great Egrets
Robins, sparrows, cardinals, and other native songbirds
Neotropical birds - warblers, thrushes, tanagers - from Central and South America
Look out for other critters, too, including foxes, rabbits, deer, and giant loggerhead turtles.
What Fish Are Biting at the Outer Banks from March through May?
Summer's prized gamefish - Tuna, Shark, Mahi Mahi - haven't yet made a splash in these waters. But you can still:
Fish for inshore and estuarine fish like Spotted Seatrout, Gray Trout, Puppy Drum, Black Drum, and Red Drum (a/k/a Channel Bass)
Cast your line from several OBX piers for saltwater favorites like Flounder and Bluefish
Book a deep-sea charter expedition to reel in Atlantic Mackerel and other choice trophy fish
What About Crabbing and Shrimping?
Love crabmeat? You're in luck! Blue crabs abound in the Outer Banks sounds and canals. Recreational crabbing season extends from May through early fall.
Nighttime crabbing usually brings in the biggest haul:
Take along a flashlight, a length of twine, a bucket or cooler, and some meaty bait such as chicken necks.
Tie the bait to the twine, cast it into the water, and twitch the line from time to time.
When you spot a crab grasping the bait, draw up the twine and drop the crab into your cooler.
Repeat until you have all you want. (The official limit is 50 per person per day, and each crab must be between 5 and 6.75 inches long.)
Prefer shrimping? The season usually starts in May. No license is required, but size and amount restrictions apply.
For sound-side shrimping:
Use a cast net (available online and at tackle shops)
Add a little shrimp meal as bait
Cast your net into deeper waters
Jig the line a few times
Draw up the net and deposit your catch in a bucket
Now's the time to plan your spring Outer Banks vacation. With cooler temps, lower humidity, and plenty of gorgeous scenery, you'll love this time of year.