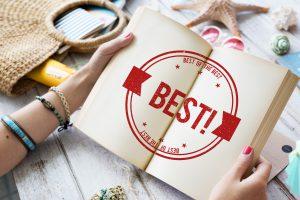 Vacationers fall in love with the Outer Banks of North Carolina for different reasons. For some, the Outer Banks represent a simpler lifestyle reminiscent of days gone by. Time slows down as you wander the beaches, trails, and quaint shops. Time seems to stop on an afternoon spent reading or just relaxing by the sea or on a shady porch.On the other hand, the active pursuits the islands have to offer are truly outstanding. Whether kayaking and kiteboarding or sailing and surfing, there are as many ways to have fun in the Outer Banks as there are hours in the day.There's no reason you can't enjoy both. In fact, it's that unique combination of scenery, simplicity, and adventure that keeps the Outer Banks on "Best of" lists year after year. Recently the Outer Banks landed on several award lists, including "The South's Best Island" and "Best Family-Friendly Beach." Here are some of the awards we've been honored to receive recently:
Southern Living: The South's Best Island
This year, Southern Living Magazine named the Outer Banks as "The South's Best Island." In their search for the perfect escape, the magazine polled readers about their favorite islands. Winners had to have everything necessary for a comfortable vacation without so much luxury that it spoiled the sense of being on an adventure."This narrow spit of sand looks as if it were tugged out into the ocean from North Carolina's mainland, leaving Pamlico, Currituck, and Roanoke Sounds behind. Rent a house and stay for a week to explore Bodie, Hatteras, and Ocracoke Islands," Southern Living writes. The magazine praised the islands of the Outer Banks as much for what they don't have — namely flashy boardwalks and loud bars with neon signs.
Dr. Beach: #3 Best Beach in the United States
Every year beach lovers wait for Steven Leatherman (a.k.a. Dr. Beach), one of the world's top coastal experts, to release his findings on the best beaches in the country. He uses 50 criteria to rank U.S. beaches, including beach width at low tide, softness of sand, wave size, cleanliness, abundance of wildlife, and views.This year Dr. Beach chose Ocracoke Lifeguarded Beach in the Outer Banks as the #3 beach in the United States. "Ocracoke, once the home of Blackbeard the pirate, is still a special place — it is my favorite getaway beach," Dr. Beach says. "Here you will find some of the wildest beaches in the country. Big surf dominates in late summer, so families with children may want to come earlier in the year. Don't expect to play golf or stay at the Ritz; the main pursuits are swimming and beachcombing."
USA Today: One of 10 Best East Coast Beaches
Readers of USA Today voted Cape Hatteras as one of the top 10 beaches on the East Coast. They love the waves and beautiful scenery, but they also love Cape Hatteras for the abundant crabbing and exhilarating kiteboarding. Regular visitors to Cape Hatteras return for the laid-back vibes, well-preserved ecology, wide-open spaces, and uncrowded shoreline. Favorite places to hang out on Hatteras Island are Pea Island National Wildlife Refuge, the lighthouse at Buxton, and Frisco Beach.
Family Vacation Critic & TripAdvisor: Top Family-Friendly Beach
USA Today readers aren't the only audience cheering for Cape Hatteras beaches. Family Vacation Critic, part of TripAdvisor, named Cape Hatteras National Seashore as the "Best Family-Friendly Beach" in 2016."Cape Hatteras National Seashore offers an authentic vacation away from the hustle and bustle of daily life, with the seashore of the main attraction," they write. TripAdvisor says that the long, sandy beaches are worth exploring, and vacationers can usually have a deserted stretch all to themselves, even on summer holidays.
U.S. News and World Report: #4 Top Family Beach in the U.S.A.
The Outer Banks have family-friendly beaches where kids of all ages can have a good time. U.S. News and World Report also named the Outer Banks among the best family-beaches in the country, thanks to the scenery and gentle waves."OBX's largely undeveloped landscape means you'll have plenty of unobstructed photo ops. Peaceful waves, usually calm enough for swimmers of all levels, will put an extra dose of relaxation in your vacation," they write.
Tripping.com: Top 10 North Carolina Beaches
Tripping.com names Carova Beach and Coquina Beach on Cape Hatteras National Seashore as two of the best beaches in North Carolina. Carova Beach earns its honors for the lack of traffic and the abundance of wild horses. Coquina Beach lands its spot for the crystal-clear water and abundant shells that you can find during spring and summer.Outer Banks beaches are known for being beautiful, clean, quiet, and family friendly. The unique ecology of the barrier islands and uninterrupted, peaceful shorelines are an award-winning combination that is sure to keep families returning year after year.