First Time in the Outer Banks? Here Are the Top 10 Things You Must Do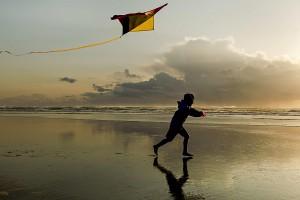 If you are planning your first trip to the Outer Banks, you undoubtedly plan to spend some time on the beach soaking up the sun and enjoying the waves. But the Outer Banks has many other attractions and points of interest you will not want to miss, including fascinating historical sites, diverse wildlife, and delicious local cuisine. As you plan your trip, be sure to make room on your itinerary for these top 10 most popular attractions that hard-core OBXers recommend.
#10 Fly a Kite on Jockey's Ridge
Located in Nags Head, Jockey's Ridge State Park boasts the tallest system of natural sand dunes on the East Coast. Bring a kite and hike to the top of the ridge to enjoy the soaring winds that inspired the Wright Brothers' first flight. If you are an adventurous type, you can also try your hand at hang gliding. Those who would rather keep their feet on the ground will enjoy the nature trails and boardwalks that wind through the park.
#9 Visit the Five Lighthouses
You may be familiar with the famous diagonal black-and-white stripes of the Cape Hatteras Lighthouse, but the Outer Banks is also home to four additional beacons of light: Currituck Beach Lighthouse, Roanoke Marshes Lighthouse, Bodie Island Lighthouse, and Ocracoke Lighthouse. Visiting all five in one day will give you a relaxing driving tour of the Outer Banks as you enjoy the beautiful scenery and soak up some of the local color.
#8 See the Wright Brothers National Memorial
Aviation aficionados will relish the historical ambiance of Kill Devil Hills, home of Orville and Wilbur Wright's first flight. The Wright Brothers National Memorial offers visitors the chance to walk along the original flight line, see reproductions of the historic flyer and glider, and learn about the Wright Brothers and their work.
#7 Learn a New Water Sport
No Outer Banks vacation is complete without catching a few waves. With guides and rental equipment readily available, you can learn to parasail, kayak, paddleboard, windsurf, or kiteboard. Those who prefer to relax on the water may want to take a dolphin tour or charter boat tour of the beautiful waterways surrounding the islands.
#6 Visit Roanoke Island Festival Park and see The Lost Colony
Roanoke Island Festival Park offers visitors a rich historical experience complete with a 16th century ship and an American Indian village. Discover what life on the Outer Banks was like during the 1500s and explore Roanoke Adventure Museum to gain hands-on knowledge of Roanoke Island history. After you have explored the park, head over to Manteo's Waterside Theatre to see The Lost Colony play, a breathtaking performance that chronicles the history of one of America's oldest mysteries.

#5 Take a Wild Horse Tour
Corolla is home to one of the last surviving groups of wild Spanish mustangs in existence. You can see these majestic animals in all their splendor simply by driving your four-wheel-drive vehicle along the beach in designated areas, or you can take a tour with a guide who can show you the most likely places to see the horses.

#4 Explore the Duck Town Boardwalk
When you are ready to take a break from high-energy activities, head over to the Duck Town Park and Boardwalk to experience nature at a slower pace. The boardwalk runs along Currituck Sound and offers breathtaking views of the sound as well as the surrounding flora and fauna. The nearby park includes a playground, gazebo, boat pier, picnic shelter, and numerous walking trails. After your nature walk, take the boardwalk to the waterfront shops in the Village of Duck and enjoy local boutique shopping.

#3 Catch Your Dinner
The waters and beaches around the Outer Banks offer excellent fishing and crabbing opportunities for those who enjoy catching and cooking their own dinner. Take a charter fishing boat out on the water for a day or cast your line in from one of the many fishing piers scattered throughout the islands. If you enjoy crab, try a crabbing charter and take home some tasty Blue Crabs fresh out of the sound.

#2 Savor the Local Cuisine
If you don't want to see your dinner alive before you eat it — or if you just want to try some fresh local cuisine — grab a table at one of the many seafood restaurants on the islands. Ask the local residents for their best recommendation and enjoy your fill of fresh grouper, snapper, tuna, flounder, shrimp, Blue Crab, and clams.

#1 Hit the Beach!
Of course, the number-one thing visitors absolutely must do when they visit the Outer Banks is explore the miles and miles of pristine beaches. No matter what time of year you visit, the beach beckons with beautiful sunsets, crashing waves, and stunning ocean vistas. Bring along buckets and shovels for the kids or just throw your towel and beach novel in a bag for a day of sun-soaked relaxation that will leave all your cares behind you.

Whether you are visiting for a long weekend or for an extended stay, be sure to include some (or all!) of these exciting Outer Banks activities and attractions in your vacation itinerary. If you can't fit them all in, come back again to become a hard-core OBXer in your own right!