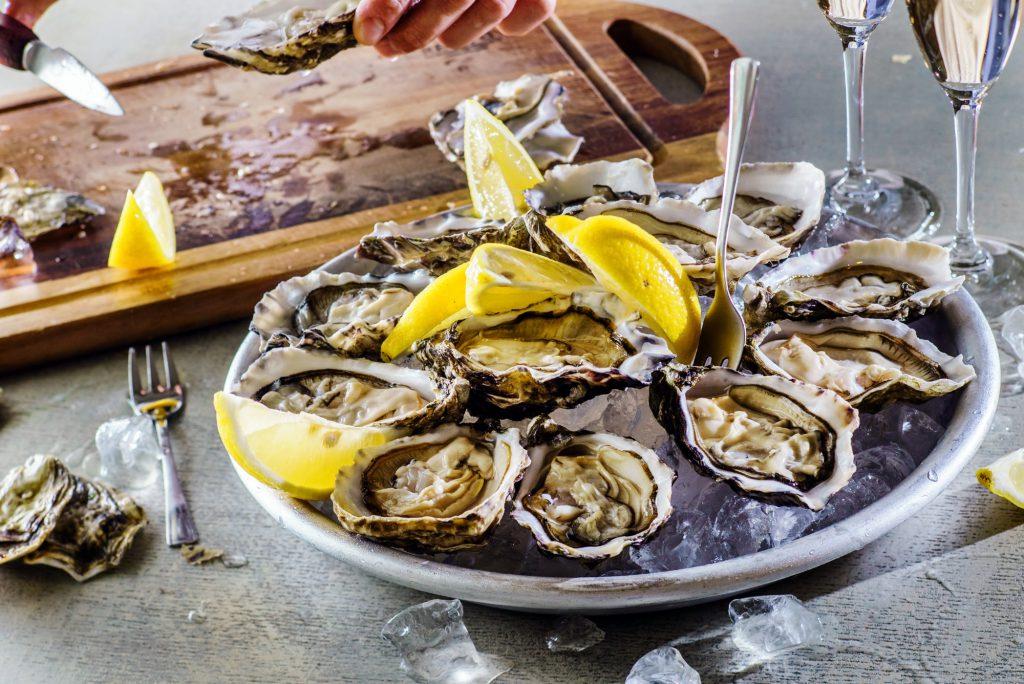 Did you know you can enjoy "oyster tourism" in the NC Outer Banks?
These beautiful barrier islands are home to a growing number of specialized oyster farms. And now you can tour these flourishing farms, where you can sample scrumptious oysters while learning all about "mariculture."
It's All Part of the New North Carolina Oyster Trail
In 2020 a group of oyster aficionados launched the NC Oyster Trail, a grassroots mission to foster greater supply and demand for these mouthwatering mollusks.
The Trail takes you to five local oyster farms:
Cape Hatteras Oyster Co., US 12, Buxton
Slash Creek Oyster Farm, 57193 Olen's Lane, Hatteras
Sticky Bottom Oyster Company, 56910 NC-12, Hatteras
Savage Inlet Oysters, 8770 Oregon Inlet Road, Nags Head
Ocracoke Mariculture, Irvin Garrish Highway, Ocracoke
Restaurants and markets specializing in NC oysters
Museums, aquariums, and educational centers offer fascinating oyster lore
Arts and crafts exhibits spotlighting these beloved bivalves
But the heart of the tour is the network of five coastal oyster farms, which let you literally eat your way up and down the Outer Banks.
You can take this tastebud-thrilling tour anytime year-round, not just during the familiar "R" months, April through September. The reason is simple. Most oyster farms cultivate sterile oysters (which, incidentally, are tri-valves, not bivalves). Result? These farms can operate all 12 months, without taking a break during oyster mating season, which runs from May through August.
So, go ahead. Hit the Trail at the NC Outer Banks. Dig into delicious oysters. And discover the whole juicy story of Outer Banks oyster farming.
First Stop: Cape Hatteras Oyster Co.
Some of the world's tastiest oysters thrive in the fertile waters of Pamlico Sound, just off of Cape Hatteras. So, it's no wonder the Cape Hatteras Oyster Co. makes its home in this sound-side locale.
Founded by father-son team Bill and Ryan Belter, this beloved Buxton farm ships its succulent oysters to restaurants and fishmongers coast to coast. Plus, it sells oysters at retail, both online and onsite. It will even deliver fresh oysters directly to your Outer Banks rental.
Best of all, it offers onsite tours, complete with delectable tastings. Call 252-489-0833 to book a tour for your entire party.
Next Stop: Slash Creek Oyster Farm
Famous for its plump, luscious oysters, this Hatteras Island farm offers regular tours on Tuesday, Thursday, and Friday afternoons.
Each tour lasts about an hour. The cost is $75 per person (which includes an oyster tasting). Private tours for a group of up to 6 are available for $400.

You'll start at the dockside Slash Creek Oyster House, where you'll learn about the farm's sustainable process for growing their premium oysters. Then you'll take a 10-minute trip on the Half Shell, Slash Creek's roomy oyster boat, to reach the farm itself, where floating bags full of oysters rock gently in the nutrient-rich waters of Pamlico Sound. 
You'll get the scoop about the different stages of NC oyster growth. Plus, you'll get fascinating insights into Outer Banks culture from farm co-owner Spurgeon Stowe, a fifth-generation Hatteras native, who has spent his entire life oystering, fishing, crabbing, and clamming around Pamlico Sound. He has some awesome stories to tell!
These tours fill up fast, so be sure to book ahead at 252-995-2045.
Now on to Sticky Bottom Oyster Company
Relatively new to the Oyster Trail, this Hatteras operation started out as a seafood market with an adjoining tourist store. Now it's also a mariculture farm, specializing in big, beautiful tri-valve oysters.
The farm itself is located just north of Hatteras Village, northwest of Sandy Bay. Here you can learn all about the farming process, see the "spat" (young oysters) in their floating bags, watch as oysters are sorted and tumbled, and savor some of these delectable mollusks. Call 252-256-2222 to book a tour or place an oyster order.
Next Stop: Savage Inlet Oysters
Situated in the famous Oregon Inlet Fishing Center, this Nags Head farm harvests its flavorful oysters year-round. Plus, it provides charter-boat tours of its own successful farming operation.
You'll relax in a spacious, comfortable boat as you tour points of interest around Pamlico and Roanoke Sounds. At the same time, you'll sample freshly harvested oysters as you learn about mariculture methods. You can even buy a big bag brimming with oysters for snacking on the trip back to shore. Later on, you can order online for a delicious oyster delivery direct to your Outer Banks rental.
To book your charter tour, contact Savage Inlet Oysters at 252-207-1170.
Last But Certainly Not Least: Ocracoke Mariculture, Inc.
Located just off Ocracoke Island, this family-owned farm offers oyster tours by appointment. You'll discover aquaculture secrets as you sample savory oysters harvested from Pamlico Sound. To book a tour, call 252-588-0106. And be sure to bring your appetite!
Is Your Mouth Watering Yet?
Pack the car, gather your family, and head off to the Outer Banks!