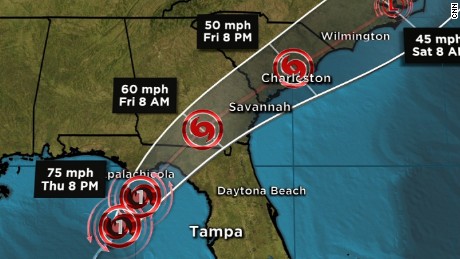 Hermine limping our way.
As of 9:00 AM on Friday morning (9/2/16) it appears that Tropical Storm (downgraded from a Hurricane earlier this morning) Hermine is going to affect weather on the Outer Banks this weekend.
At the time of this writing the center of circulation of the storm is approximately 50 miles southwest of Savannah, Georgia and moving toward the North-Northeast at 14 Miles Per Hour.   At this pace and track the storm would pass over the southern Outer Banks in the early hours of Saturday morning and head out to sea.
Emergency Management officials do not expect to issue any declarations of evacuation for the area, and the impact of the storm are predicted to be contained to some heavy rain later today, and overnight, followed by some blustery winds and high surf on Saturday.
Here's a picture from one of our guests (Thanks Paige Snow) showing some building clouds in the Corolla area.
If you are a vacationer planning on arriving this weekend we look forward to welcoming you.   It is business as usual on the obx this morning and we are looking forward to a great tail end of the Labor Day weekend.
If weather conditions change look here for updates!
All the best from the beach!
Comments
comments