About Outer Banks Blue
Outer Banks Blue Mission Statement: "To exceed customer expectations in Real Estate Sales and Rental Management by providing Blue Ribbon customer service."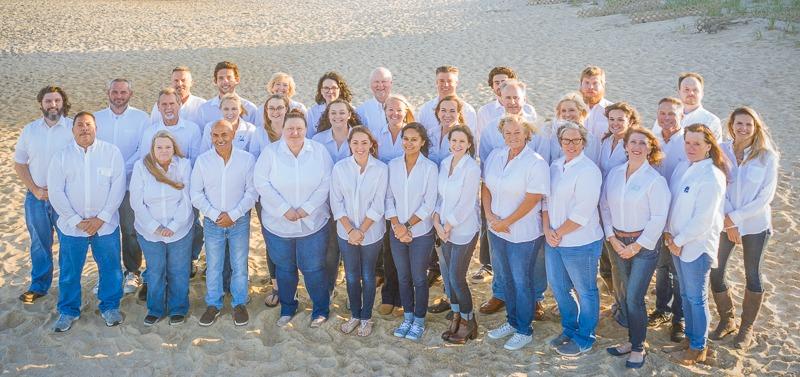 Outer Banks Blue Realty Services is a family-owned and operated vacation rental management, property management, and real estate services company based in Kitty Hawk, NC. Our team of experienced professionals has been providing competent and personalized service to our clients since our founding in 2005. Our mission is "to exceed customer expectations in real estate sales and rental management by providing Blue Ribbon customer service."
Communications
Our communication with clients and customers is always conducted at their convenience and on their terms. We understand the importance of effective communication and strive to return calls promptly. We are available 7 days a week and have extended reservations department operating hours to ensure that our customers can reach us when they need to.
Housekeeping
We recognize that housekeeping is the single most important aspect of maintaining a vacation rental property. Our management team has years of experience in the industry and understands the importance of meeting expectations to ensure guest satisfaction. We take pride in presenting a clean and well-maintained property to our guests, as it shows that we care about the presentation of the product that they have purchased.
Guest Services
We value our guests and aim to make their stay with us special. We offer high-quality bed, bath, and kitchen linens in all of our properties at a low cost to our guests. We also provide a starter package that includes a starter supply of soap, paper products, and other items to help our guests relax and postpone their inevitable trip to the grocery store for a few hours. We go above and beyond to ensure that our guests receive the best possible service, from prompt e-mail follow-ups to telephone calls placed one week in advance of their arrival.
Keyless Entry
Keyless entry is a valuable feature on every property with Outer Banks Blue. With our keyless entry system, guests can access their vacation rental properties without stopping at our office or worrying about getting stuck in traffic before our office closes to pick up the keys. It simplifies the check-in process and makes guests' vacation experiences more enjoyable.
Our keyless entry system not only saves our guests time but also provides them with greater convenience and security. There's no need for our guests to worry about losing or misplacing the keys, which can be a major source of stress during a vacation. Instead, our guests receive the check-in information via email, which they can easily access and use to enter the property.
Give us a call today and discover the "Blue difference"!
The Vision of Outer Banks Blue
The
vision of Outer Banks Blue
was developed by Tim Cafferty in 2005 after over 25 years in rental management on the Outer Banks. With experience in both a smaller, family-operated company that evolved into a leader on the Outer Banks in occupancy numbers and technology under his expertise and in the management of a nationally recognized, publicly owned corporation boasting the largest inventory of vacation rentals on the Outer Banks his vision of a more personalized management opportunity developed into the conception of Outer Banks Blue Real Estate Services.
Mr. Cafferty's experience and reputation in the area for attention to detail and integrity along with a team of experienced and dedicated personnel has already brought Outer Banks Blue into the forefront of rental companies in our first year. With an original goal of 50 vacation rentals surpassed in two months with over 100 properties, it became very clear it would be necessary to promote this vision with a dedication to our clients for responsible growth, and a dedication to our customers with quality vacation rentals. Therefore, the decision was made very early to be selective in the properties and areas we represent. We now represent over 200 vacation rentals and have remained consistent and successful in our mission of exemplary service and rental activity for our valued clients.
Our Management Program offers an "inclusive" service package at a competitive management fee. This management fee includes not only cleaning after guests, but deep cleaning, carpet cleaning, and other specialized services required to properly maintain vacation rentals of the caliber we represent. All properties offer high-quality bed, bath, and kitchen linens at one low cost to the guest (no restocking fees).
In addition to the traditional rental management program, Outer Banks Blue offers services for homeowners that do not wish to rent their primary or secondary homes (called property management). We have customized property management packages for owners that wish to use their homes strictly as family homes. We can provide cleaning, maintenance, and linen services for clients that only open their homes for family and friends, or offer the home for a limited period to the public.
The combination of personalized services for homeowners and customers, a professional and knowledgeable staff, and a commitment to exceeding expectations rather than remaining with the status quo has been instrumental in the success of Outer Banks Blue and the properties we represent. We welcome you to
view our inventory
of fine vacation rentals or more detailed information about our
rental management
program.