Memory Monday 6/10/13
Sunrise on the OBX!
This week's Memory Monday photo submission comes to us from Stacey Clayton of Bowling Green, Kentucky who stayed with us at
Outer Banks Blue
at the property "
Sea Vue
" in Duck this past Christmas.
If you look closely at the photo you can tell that it was taken in the winter because of the position of the sun on the horizon. The sun is located in the far southeast in relation to the beach which is a geographical clue about the time of the year. The sun is of course in the southern hemisphere in the winter time so it stays in the southern sky as compared to this time of year when the sun rises nearly due east of the Outer Banks.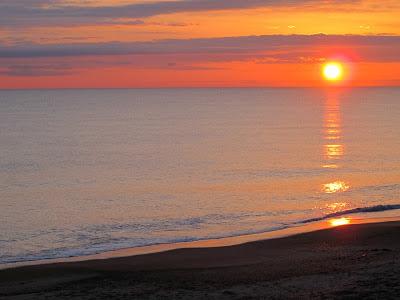 Another Beautiful Outer Banks Sunrise


Regardless of when the picture was taken we love the picture and it reminds us of yet another reason why we love to call the Outer Banks "Home."




Thanks Stacey for your photo memories and we look forward to serving you and your family again soon!




All the best from the beach!