Greetings from another glorious morning here on the Outer Banks.    As I write this temperatures are perfect, the sun is rising over the ocean, and it is a great time to be on the Outer Banks.   Things are simply beautiful.Beautiful is the word of the day as on this week's Memory Monday photo submission we send out thanks to Annette Zerbe of Bethlehem, Pennsylvania who stayed with Outer Banks Blue just last week in the Southern Shores vacation rental property "
Breaking Winds
."At some point during the week Annette got the whole group together on the beach and snapped this shot of her family.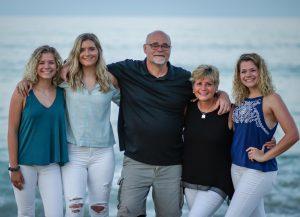 We have seen many family shots taken on the beach, but this is one of the best staged shots ever.  Note the color coordination of the outfits, the calm seas in the background, and of course the perfect lighting.   Well done Annette!It looks like this group had a great stay, and this is as good a time as any to remind you that there is still time to think about an upcoming stay this summer.  We still have some availability between now and Labor Day for you and your family to have a great getaway.   Our beaches are equally as beautiful as this week's Memory Monday photo, and our properties do not fall short.In fact, in passing along her photo to us Annette said "Thank you for being a great vacation rental company.   You make everything so easy!"Well there you go.  Thank you Annette.  We look forward to serving you and your family again soon.All the best from the beach!