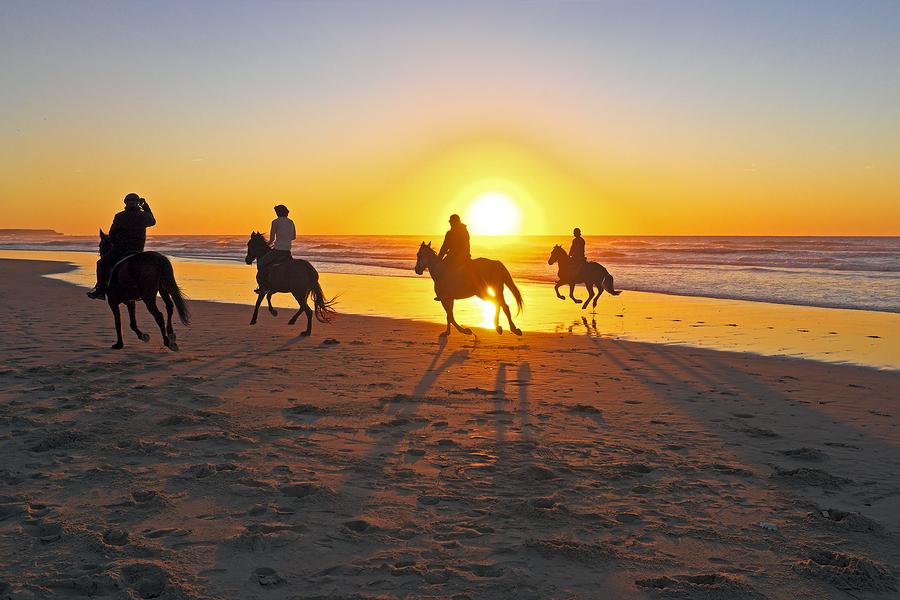 Experiencing the wonder of the Wright Brothers National Memorial. Taking the kids to Pirate Adventures. Climbing the lighthouse steps for a bird's eye view of the area. All these are part of the fun of the Outer Banks. Vacation tips frequently list these as popular things to do ... and they are.
Away from the tourism of this region, however, are a few little gems the locals truly cherish. If you want to live like a native in the Outer Banks, try these five local favorites during your next visit.
#1 - Corolla and Carova Beach
With the exception of a few million-dollar mansions and the homes of residents, the town of Corolla is the last glimpse of civilization before reaching Carova Beach. Truly a spot for locals, this area has unspoiled dunes, pristine beaches, wild Spanish mustangs roaming free and, well, that's about all.
No paved roads. No stores. No trash pickup. No gas stations. Just nature and locals.
It's a little slice of paradise that offers a view rarely seen by most and absolutely worth the trip. If you aren't driving a four-wheel-drive vehicle during your stay, you'll want to stop in Corolla and rent an ATV or two. Most two-wheel cars get stuck in the sand. Some goodhearted natives usually stop and pull visitors out, but this is not the way you want to spend your day.
#2 - Daredevils Baseball
While vacationing at the beach is a big draw for U.S. families, baseball is absolutely America's favorite pastime. Here's a great Outer Banks vacation tip: combine the two!
The Outer Banks Daredevils play every Monday, Tuesday, Wednesday and Thursday nights at 7:05 p.m. (during season). In addition to a fabulous game, you and the family can also enjoy on-field kids' games and exceptional concessions from popular restaurants such as Mulligan's Raw Bar & Grill. Every game raises awareness and funds for local charities.
#3 - The Salt Box Café (and other local restaurants)
Nothing against the national food chains, but when you're in the Outer Banks, there are so many exceptional local restaurants that it's a shame not to try as many as possible. The Salt Box Café is a great example.
Owned by classically trained chef Randolph Sprinkles, this charming cottage-style restaurant features local seafood, meat and other ingredients. Open for breakfast, lunch and dinner, you'll find five-star cuisine at very affordable prices for the adults and a fun menu for the kids.
The Salt Box Café is just one of many local restaurants that do the Outer Banks proud. The Blue Point, Ocean Boulevard, High Cotton Barbecue, Awful Arthur's Oyster Bar, The Colington Café (hailed by Southern Living magazine), Outer Banks Brewing Station and too many others to name all offer a delicious way to explore the region.
#4 - Festivals
Street fairs and festivals are as much fun for locals as they are for visitors. Plus these events offer a wonderful way to discover plants, people and food you might not otherwise have seen.
Here's a vacation tip for you: plan your stay around one of the fun festivals that happen practically year round.
Just a few of the most popular events include the Food and Wine Festival (March), Outer Banks Beach Music Festival (May), Faire Days Festival (May - September), Ocrafolk Festival (June), Rogallo Kite Festival (June), Under the Oaks Art Festival (June), Watermelon Festival (August), Outer Banks Bluegrass Festival (September), Duck Jazz Festival (October) and Seafood Festival (October).
#5 - National Parks
In addition to national parks, the Outer Banks also has a national seashore at Cape Hatteras. According to the National Parks Service, "Cape Hatteras National Seashore is a major resting and feeding grounds for migratory birds." Here you'll find lots to do including surf-fishing, kiteboarding, surfing, swimming, windsurfing, crabbing, shell-collecting, sightseeing and more.
There's also Jockey's Ridge State Park with some of the tallest sand dunes on the Atlantic coast. Sandboarding, kiteboarding, hang gliding and picnicking are popular pastimes for local families and visitors.
What else do locals love? The beaches! An early morning jog, a leisurely breakfast overlooking the shore, an afternoon stroll and fishing/shrimping for your dinner... it's a lifestyle everyone should experience. Even if you are only a temporary visitor who comes once a year, we invite you to enjoy everything we cherish about this area.