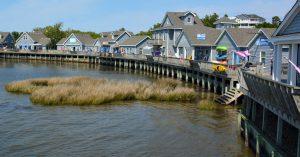 Ready to explore Duck, NC, but not really sure where to start? While everyone has their own preferences, a perfect day can include good food, beaches, living like a local, shopping, and strolling. Here's what we have in store for you.
Start Your Day at Duck Donuts
You haven't had a donut until you've had one from Duck Donuts. Made fresh to order, these warm and soft donuts are unlike any others. That's because each is one of a kind and made just for you. Check out the featured selections that rotate with the seasons — the menu may include tempting combinations such as maple bacon, chocolate mint, vanilla coconut, or chocolate marshmallow. Feeling creative? You can build your own by choosing any combination of icing, drizzles, and toppings.
Get Out on the Water
Now that you're fueled with carbs, it's time for a bit of water fun. Paddleboarding combines exercise, relaxation, and excitement. You can rent a standup paddleboard (SUP) from Nor'Banks Sailing and Watersports on Duck Road. This outfitter is located on a soft, sandy beach that is a safe location to learn to paddle. Beginners can take a 1-hour lesson in warm, shallow water while experienced paddleboarders can strike out in the waves on their own.If you've always wanted to try sailing, Nor'Banks offers rentals and instruction. Rent a small Hobie Getaway for an accessible introduction to sailing, or get a 14-foot catamaran that carries up to three people. If you already have some sailing experience, Flying Scots are available to you. These speedy, 19-foot sloop-rigged monohulls hold up to six people. Nor'Banks also offers private sailing lessons in a two-person Sunfish sailing dinghy.Want to go faster? Rent a Waverunner or sign up for a Parasailing or tubing excursion. Parasailing rigs hold three people, so kids can ride with a parent. Parasailors get to choose between three aerial vantage points that range from low to high.
Refuel With Rock & Roll Tacos
Now that you've worked up an appetite, head 3 minutes up the road to the Duck Deli for a casual lunch. Their famous Rock & Roll fish tacos are a delicious way to recharge after a busy morning at the beach or on the ocean. This favorite spot also offers light salads, delicious sandwiches and subs, burgers, hot dogs, barbecue, and filling seafood platters. Another Duck original you'll want to return to again and again!
Catch Dinner
With a belly full of tacos, you might not be thinking of dinner (or maybe you call it supper), but if you plan to catch it yourself (which we highly recommend), it's time to go crabbing and catch your dinner. High tide or low tide, crabbing is best when the water is "moving," so about two hours before or after slack tide is just right. Crabbing is fun for the whole family, requires little gear and zero experience. You'll need a weighted line with a hook on the end, fishing line, a package of hot dogs or chicken necks, and a fishing net.Attach the bait securely on the hook, then gently drop it into the water until it rests on the bottom. Wait 5 to 10 minutes, or until you see your line moving, then slowly begin to raise the line. If you see a crab attached to the bait, raise the line until the crab is about 2 feet below the Surface.Slowly lower the fishing net under the crab and scoop it up. Crabs are fast, so it helps to have one person raising the line and one person operating the net. Carefully detach the crab from the bait and put it in a cooler. If you've never boiled or cleaned a crab, a quick YouTube video will make you a pro in no time.You'll need some side dishes to go with your crab tonight, so a stop at Tommy's Natural Foods Market & Wine Shop is in order. Tommy's is the place to pick up ingredients or prepared side dishes, including fresh bread and rolls. If you didn't have any luck crabbing (or took pity and set them all free), Tommy's also has dinner to go.
Sunset Stroll on the Boardwalk
Sunset is a celebrated event every evening, and there's no better place to take it in than the Duck boardwalk. The boardwalk is a nature trail that spans nearly a mile by and over the Sound, connecting Duck shops and restaurants and the Duck town park. Keep a watch for wildlife such as ducks, geese, songbirds, large fish near the pilings, and even dolphins. After sunset, browse the boutiques that dot the boardwalk.Duck waterfront shops offer everything from swimsuits and T-shirts, souvenirs, home décor, and art to books and sunglasses. If you're ready for dessert, Sunset Ice Cream and Cappuccino has dozens of flavors — and a great view while you eat.It's not hard to have a perfect day in Duck. Start your day at a famous donut shop and end with a beautiful sunset, and you'll have created a day full of unforgettable memories.