The Last Post of the Year!
It is hard to believe that another 52 Mondays have passed, but indeed this will be the last Memory Monday Photo Submission for 2013. Its been a great year with lots of memorable photos to share. Thank you to everyone who contributed to our weekly postings, and congratulations to the people that won the monthly random drawing of photos to get $100 off your next year's stay with Outer Banks Blue.
We wrap up 2013 with this submission from Rosanna Massucci of Vincentown, New Jersey who sends along one of the cutest photos of 2013.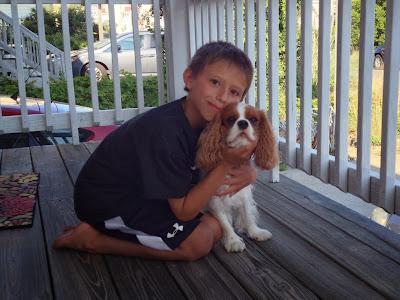 Rosanna entitled this photo "Best Friends Forever," and it sure looks like that is a good caption.
Rosanna and her family stayed with
Outer Banks Blue
this past July in two different properties on consecutive weeks. They stayed in Corolla at the property "
Crab's Day Off
," and then they moved to the property "
Island Hopping
" in the Ocean Lakes area. Both great properties, and it looks like everyone in the family had a great time.
We look forward to serving Rosanna and her family again in the 2014 rental season just as we look forward to hosting your family's OBX gathering.
Outer Banks Blue will be closed on Wednesday, January 1st, but our phone lines are open every day 24 hours a day, so if you are ready to plan your 2014 vacation and make your own photo memories - we are too! Give us a call today.
All the best from the beach!
By
Tim Cafferty
, President, Outer Banks Blue Realty Services