Greetings from the Outer Banks.   We hope daylight saving time has not been too big of an adjustment for you and you are having a great Monday!   This week's subject on Memory Monday is Beach Driving.   It has been in the news a lot here on the OBX lately, and it is also the picture we provide to you here on Mem. Mon.First of all this week's Memory Monday photo submission comes to us from Neil Serowsky of  Philadelphia, Pennsylvania who stayed with his family at the Nags Head rental property "
No Wake Zone
."During his stay Neil and his son were able to do one of the unique things of the Outer Banks - the ability to drive your vehicle on the beach.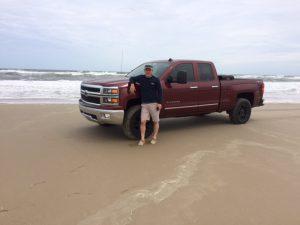 Neil says he had a great time driving on the beach, and he can't wait to do it again.   It sure looks like you had a great time Neil.Visitors to the Outer Banks are able to access driving on the beach in two main locations.   On the
Cape Hatteras National Seashore
you can drive your four wheel drive vehicle, but it does require a permit.   $50 will get you a 10 day beach driving pass, and $150 will get you an annual pass where you can drive on the beach from any of the many beach ramps.The other location you can drive on the beach is north of Corolla on the
Currituck County Outer Banks
.   There is no fee to actually drive on the beach, but effective this past Monday (3/5/18) the Currituck County Commissioners passed an ordinance that prohibits parking on the beach without a permit.   A fee structure for these parking permits has not been established yet.The purpose of Currituck County addressing this issue comes from the popularity of people driving on the beach north of Corolla and parking near the water line thus creating congestion on the heavily traveled area.This issue has been discussed in several of the
Currituck County Commissioner's meetings
over the last two months, and it seems like it will be discussed some more.Also beach driving is permitted in Nags Head and in Kill Devil Hills during the off season time of the year.  A limited number of beach driving permits are available from each town.At any rate Neil, we appreciate you forwarding your timely photo, and we look forward to serving you and your family again soon.All the best from the beach!