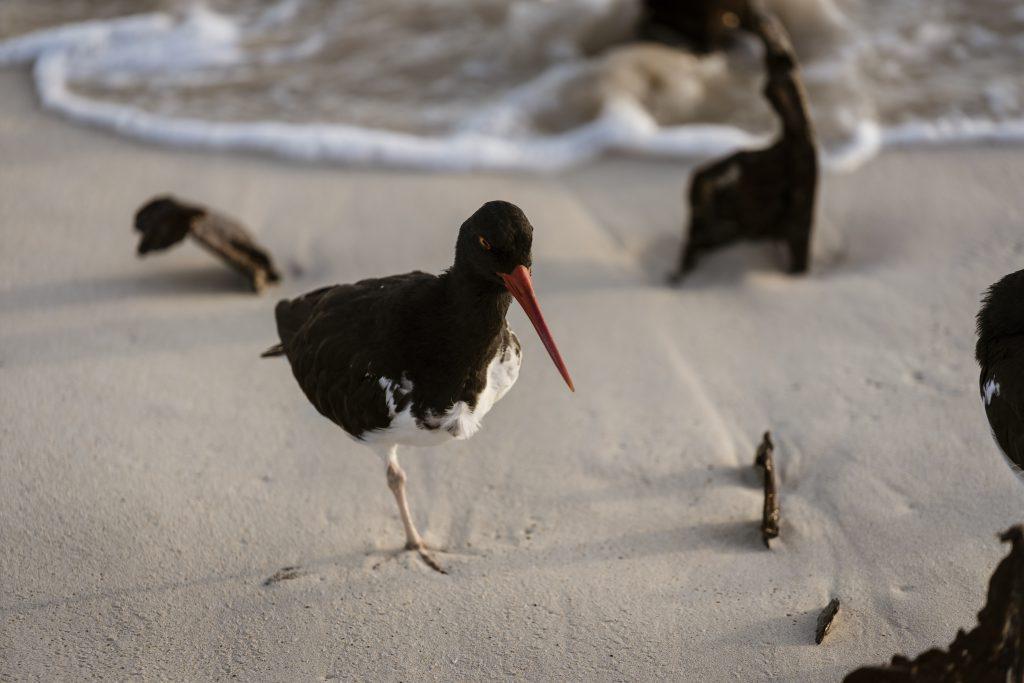 You've seen all the famous attractions: lighthouses, beaches, botanical gardens, etc. Now it's time to head off the beaten path and explore hidden Outer Banks havens where tourists are scarce but natural beauty abounds. You may find that these uncrowded spots are the most memorable activities of them all!
Take a Scenic Hike Through Nags Head Woods
Most people associate the Outer Banks with white sand and sparkling surf, but these picturesque barrier islands also boast beautiful woodlands. Visit the Nags Head Woods Ecological Preserve and see for yourself.
Situated at 701 West Ocean Acres Drive in Kill Devil Hills, this 1,400-acre preserve protects one of the East Coast's largest remaining maritime forests. And what a forest it is - lush, dense, and largely deciduous, with towering oaks, beeches, and hickories, some hundreds of years old. You'll almost feel as if you're in the western Carolina mountains!
What's the secret behind this unusual seaside landscape? The Preserve is bordered by majestic dunes, which shield it from damaging ocean winds and salt spray. Result: Giant hardwoods and loblolly pines thrive here in sheltered safety.
Hike any of seven scenic trails through forested ridges, along with shimmering ponds, and around grassy marshes and wetlands to discover:
More than 550 plant species - flowers, ferns, shrubs, trees, and more
Seven plant community types, including the globally rare Maritime Deciduous Forest
Over 50 species of reptiles and amphibians
More than 150 bird species, including seasonal nesters such as warblers and grosbeaks
Seven species of fish that flourish in freshwater ponds
More than 20 mammal species, including river otters and bobcats
All trails are well maintained, and natural wonders await you at every turn. What's more, the trails seldom get crowded, so you can explore the breathtaking scenery in amazing peace and privacy. Just be sure to bring along a camera. You won't want to miss out on a chance to snap a shot of an elusive bobcat, slider turtle, or heron!
Nags Head Woods trails are open to the public daily from dawn to dusk. The Preserve's office is open from 9 a.m. to 5 p.m. Monday through Friday year-round.
Explore Pea Island Wildlife Refuge
Spanning 13 miles north to south, Hatteras Island's Pea Island National Wildlife Refuge provides nesting, resting, and wintering habitat for a wide array of migratory waterfowl, shorebirds, raptors, wading birds, and more - along with protective habitat for endangered and threatened species.
What does that mean for you?
It means you and your family can enjoy a leisurely hike through picturesque pond-fringed wildlands to view an impressive array of birds, mammals, reptiles, and amphibians.
From September through March, you'll encounter a wide variety of overwintering wildfowl, such as Tundra Swans, Snow Geese, Canada Geese, Coots, Grebes, and all kinds of ducks.
From April onward, you're likely to spot colorful shorebirds like the Great Egret, Great Blue Heron, and Black-Bellied Plover.
Open 9 a.m. to 4 p.m. daily, free to the general public, the Refuge hosts free guided interpretive bird walks every Friday between 8 and 9:30 a.m. (weather permitting). Plus, it offers a $10 guided tram tour on the first Saturday of each month.
Of course, you can always wander along the Refuge's two magical wildlife trails anytime during visitor hours. No reservations are required!
The Refuge Visitor Center is located at 14500 NC Highway 12 in Rodanthe. Stop in there first for valuable info, tips, and directions to trails.
Climb the Towering Dunes at Jockey's Ridge State Park
You've probably never seen anything quite like the dunes at Jockey's Ridge State Park (300 West Carolista Drive in Nags Head).
About 100 feet high at their tallest, these massive mountains of sand make up the highest active dune system on the entire East Coast.
Best of all, you're allowed to climb and explore them to your heart's content. When you reach their summits, you'll enjoy stunning views of Roanoke Sound and the Atlantic Ocean.
Visiting Jockey's Ridge during the summer? Be sure to wear sturdy shoes or sneakers and bring along plenty of water. In June, July, and August, the sand can get scorching hot. And, when the sun reflects all that heat and glare, you'll be grateful for an ice-cold swig of H2O!
Visiting during spring or fall? When the weather's windy, bring kites to the dunes and send them soaring high above sea level. It's a fun-filled family experience, guaranteed to delight your kids.
Along with giant dunes, Jockey's Ridge includes woodlands, trails, and a small, shady picnic area, where you can cool down and have a bite to eat before heading back to your car.
Plus, be sure to stop in at the Visitors Center to chat with the friendly, knowledgeable staff and browse fascinating exhibits.
All This Plus Miles of Pristine Beach, Both Oceanfront and Sound-Side
Not to mention quaint shops, charming galleries, and little hole-in-the-wall restaurants favored by the locals. Ask around for recommendations!