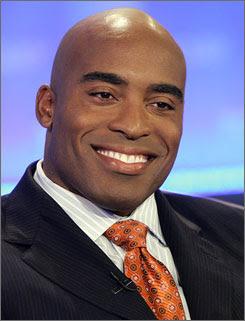 In a recent USA Today Travel Section article former NFL All-Pro Running Back Tiki Barber identified Pine Island in Corolla on the Outer Banks to be his favorite vacation spot. Barber, who played for 10 years for the New York Giants, and currently works for NBC Television as a correspondent for the Today show and an analyst on Football Night in America first discovered the Outer Banks when he went to college at the University of Virginia in Charlottesville, VA.In a question answer interview regarding travel habits in a recent edition of the USA Today Barber commented as follows on Pine Island:Q: What's your favorite vacation spot and why?A: Pine Island, N.C. We rent a house right on the beach and go down every Fourth of July week with four other families. It's so relaxing to spend the days on the beach with the kids, and take turns cooking dinner, but most importantly, to escape from New York without an agenda for seven days.Q: Can you offer an insider tip or recommendation for your favorite vacation place?A: If you're thinking about booking a house for the week at Pine Island, do it "yesterday." The good houses go quickly. And if you get a chance, get a four-wheel drive vehicle and go see the wild horses at the
Currituck National Wildlife Refuge.
Pine Island is of course one of the premiere vacation rental home locations on North Carolina's Outer Banks. Outer Banks Blue offers some of the finest homes in the area in its inventory of homes. The
homes in Pine Island
all have access to the multiple community swimming pools in the subdivision, as well as tennis, bike and walking paths, playground, and private beach access. The majority of homes in Pine Island boast private pools, and hot tubs, and many include elevators, media rooms, pool tables, and many other high end luxury amenities.In his illustrious 10-year playing career, Barber set virtually every career offensive record for the Giants, while being voted to three NFL Pro Bowls. He holds the Giants all-time mark with 10,449 career rushing yards - good for 17th all-time in NFL history. Barber's 586 receptions and 15,632 yards from scrimmage also are Giants career bests. His 2,390 yards from scrimmage during the 2005 season ranks 2nd best in league history. Barber saved his best for last. In his final regular season game, Barber rushed for 234 yards in a victory over the Washington Redskins, setting a franchise record and helping the Giants clinch a berth in the playoffs. He is one of only three players in NFL history with at least 10,000 rushing yards and 5,000 yards receiving in a career.Tiki Barber is a native of Roanoke, VA and is a 1997 graduate of the University of Virginia. While at UVA, he was selected as a Top Eight recipient by the NCAA Honors Committee for achievement in athletics, academics and leadership. Barber resides in New York City with his wife, Ginny, and their two sons, A.J. and Chason.