It may be winter, but in the Outer Banks, the competition is about to heat up...
Are you a fan of the National Geographic Channel hit series,
Wicked Tuna
? Love the Outer Banks? The two are about to come together in a new National Geographic Channel series,
Wicked Tuna: North vs. South
.
F
ilming begins off the coast of the Outer Banks in North Carolina this winter and will premiere in the U.S. and globally this summer.
The original Wicked Tuna follows the cutthroat, high-stakes business of bluefin tuna fishing in Gloucester, Mass., as vessels and crews set sail in search of the smartest, fastest and most elusive fish in the ocean — and the big money that follows them. Although bluefin season came to an end in Gloucester on Dec. 31, it's just about to get started in the Outer Banks.
When the new season of Wicked Tuna premieres this February on National Geographic Channel, some of the New England captains from the original series will have already ventured south to reach the evasive bluefin in the Southern Atlantic waters before their North Carolina counterparts beat them to the catch. The weather is much more unpredictable in the Outer Banks during its January through March bluefin season, and the seas can be extremely rough. But if the captains can reach this "new frontier" and reel in some "monstah" fish before the government catch quota is reached (the quota was reached in mid-February last year), the winter months could potentially yield a greater catch than in Gloucester. In fishermen's terms: a cash bonanza.
"Wicked Tuna is one of our strongest franchises, and taking our tuna fishermen down South allows us to explore a new region of America and new waters in the Atlantic," says National Geographic Channel President Howard T. Owens. "We are taking the best New England fishermen from Gloucester to the Outer Banks to see how they fare against good old Southern boys who fish the old fashioned way off the beautiful shores of this epic country."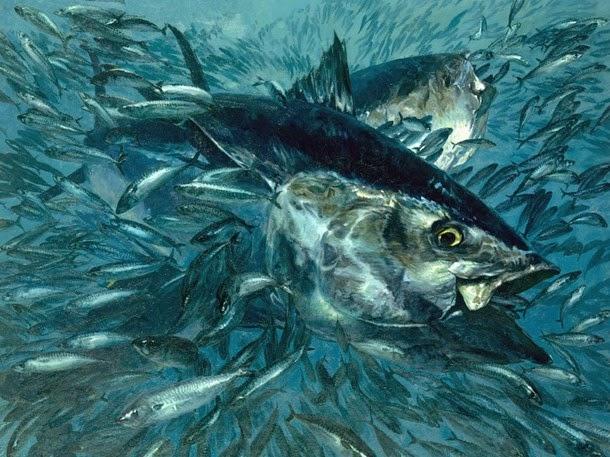 Photo courtesy of National Geographic Channel
In addition to offering an inside look at one of America's oldest industries, Wicked Tuna and Wicked Tuna: North vs. South also shed light on important issues surrounding the fate of the bluefin tuna. As the scientific community debates how best to preserve the species, American fishermen, including the Wicked Tuna captains, continue to adhere to U.S. regulations that determine size limits and quotas for the season. National Geographic Channel's consumer website features articles, links and message boards devoted to the tuna and oceans.