Memory Monday 12/24/12
Sunset on the Outer Banks!
This week's Memory Monday Photo submission comes to us from Daniel Werner of Rutledge, Pennsylvania who stayed with Outer Banks Blue Realty Services this past September in "B's Dream" in the Crown Point subdivision in Corolla. Daniel is a long time customer of Outer Banks Blue having stayed with us for several years, and we are taken by his beautiful sunset pictures taken this past summer at Heritage Park in Corolla.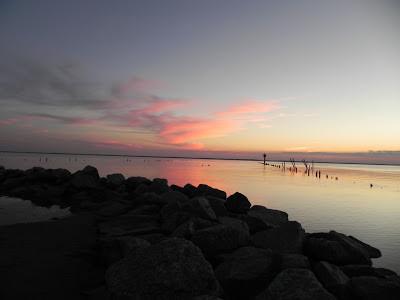 Daniel tells us "We used to go to Long Beach Island, New Jersey, but started going to the Outer Banks after a friend recommended it. This coming year we already have scheduled a May week, my wife and I only for our 25th wedding anniversary as well as another September week with our family. As for our trip this year it couldn't be better. September seems to be a great time to go. We obviously his the beach each day as well as ocan and bay kayak. We also rented jet skis for the kids (sons 21 and 23) husband and daughter, and one of my nephews. The trips are well worth the 7 hours drive. We are actually considering retiring down to the O.B."
Well when you do Daniel please bring your camera and keep sending us beautiful photo memories like these!
All the best from the beach!