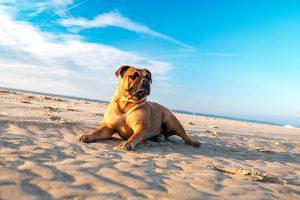 If you're bringing your dog with you to the beautiful beaches of the Outer Banks you want to make sure you're prepared and know everything you can to keep them safe and healthy. To make your life a little simpler, we've compiled a list of laws/ordinances, emergency phone numbers and other pet safety information for you.
Leash Laws and Regulations
Each of the beach towns have their own laws on when pets are allowed on the beach and what their specific regulations are. Make sure you know the laws for the area you are going to be staying in.
Carova and Corolla - Dogs are permitted on both beaches all year, but they must remain on a leash at all times.
Duck - You may unleash your dogs on the beach year-round but it is encouraged to keep your dog leashed if they do not have reliable recall commands, even despite distractions. This is for the safety and consideration of all beach patrons, canine and human!
Southern Shores - Dogs are allowed on the beach all year, within certain guidelines. During the in-season (May 15 and September 15), your furry friends are allowed on the beach before 9am and after 6pm only. Between September 16 and May 14, dogs are permitted all day so long as they are on a leash no longer than 10 feet.
Kitty Hawk - Dogs are allowed year-round in Kitty Hawk with specific restrictions as well. Between the Friday before Memorial Day and the day after Labor Day, from 10am to 6pm, dogs must remain on a retractable leash no longer than 12 feet.  The rest of the year, dogs may be taken off the leash so long as they are not disturbing others, have reliable recall commands, and are no more than 30ft from their owner with a leash available.
Kill Devil Hills - May 15 through September 15 from 9am to 6pm, no pets (other than service animals) are permitted on the beach. Any other time of the year, dogs are permitted as long as they are on a leash no longer than 10 feet.
Nags Head - Dogs are allowed on the beach any time of the year so long as they are on a leash no longer than 10 feet.
Rodanthe, Waves, Salvo, Avon, Buxton, Frisco, Hatteras and Ocracoke - Pets are permitted on a leash no longer than 6 feet, year-round. However, there are designated swimming beaches on which pets are prohibited.
As a courtesy to fellow beachgoers and the environment, all pet waste must be collected and properly disposed of immediately. The State of NC requires rabies tags to be worn at all times.
Preparing for the Beach
During the hot summer months, you may need more equipment for your pet pals, but here is a quick summary of things you'll need to keep in mind and bring to the beach to make sure your pet has a safe and fun trip.
Outdoor water bowl for when they get thirsty in the heat. Your dog can't sweat to stay cool so it's important to make sure they stay hydrated throughout the day.
Fresh drinking water. Even though it may seem harmless at the time, ingesting too much salt water can be very dangerous for your dog, so it's best to bring along a couple bottles of water to avoid hypernatremia (high sodium levels in the blood) and a very costly vet bill.
Bring towels for drying him off after swimming and to protect his belly from the hot sand. You can also use it to protect your car's interior from the salt and sand if your pup doesn't need it.
Doggy sunscreen. As silly as it sounds, short, light colored fur and pink skin makes pets more vulnerable to the sun. Find child-safe sunscreen or something approved by your vet to protect your pet's skin from the harmful rays of the sun. He'll thank you later!
Don't allow pets to swim when there are strong tides or rip currents. Not only could they begin to panic, but the risk of overtiring increases which makes swimming much more dangerous than on a calm day.
Beach umbrellas are great for making sure your furry friend doesn't get too overheated in the sun while he plays or rests.
Particularly on hot days, it's best to take shorter midday or evening walks to avoid overheating and burnt paws on hot pavement or sand. Tip: if you cannot place your hand on a surface for at least 10 seconds, it's too hot for your pet too.
Waste bags. In order to dispose of pet waste, it is required to always have something to clean up after your pet with. You'll avoid a fine and be fully prepared for the day.
Emergency Pet Hospitals
Animal Hospital of Nags Head, 39450 NC-12, Avon, NC, (252) 995-7718
Animal Hospital of Nags Head, 101 E Dowitcher St, Nags Head, NC, (252) 441-8611
Coastal Animal Hospital, 3616 N Croatan Hwy, Kitty Hawk, NC, (252) 261-3960
Outer Banks Veterinary Hospital, 3723 N Croatan Hwy Unit 9, Kitty Hawk, NC, (252) 715-1407
Roanoke Island Animal Clinic, 107 Russell Twiford Rd, Manteo, NC, (252) 473-3117