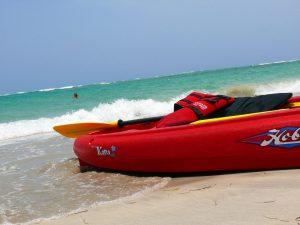 Ready for an up-close-and-personal look at the NCOuter Banks? Try kayaking. This hugely popular watersport lets you and yourfamily paddle across calm, shimmering sounds; over grass-fringed salty marshes;and through secluded nature preserves teeming with coastal wildlife. It's aneye-opening, fascinating way to explore the OBX.
It's also open to all ages, ability levels, andinterests. You can rent a kayak from a sound-side outpost for a guided sunset tour...cast your line from a fishing kayak... or brave the Atlantic's choppy waves ina seaworthy ocean kayak. It all depends on your skills and preferences.
Sound-SideKayak Tours: Ideal for the Entire Family
Never kayaked before? Or simply prefer a moreleisurely experience? Take a kayak tour over one of the five peaceful soundsbordering the Outer Banks.
You'll find tour outposts all over the OBX, fromCorolla down to Cape Hatteras. All offer equipment for rent - kayaks, paddles,life vests - along with step-by-step lessons. All also provide veteran guideswho will accompany your party, identify points of interest, and head offpotential problems.
With an average depth of three to five feet, theOuter Banks sounds are generally safe for all ages. Even if your kayak tipsover (highly unlikely), you'll be able to right it quickly, especially withprompt assistance from your professional guide.
Typically, rental kayaks accommodate one or twopersons. Designed for calmer waters, these recreational craft are built morefor stability than speed. Nonetheless, they're amazingly nimble, so you'll findyourself easily skimming over the placid surface.
As you glide along, you may spot egrets, pelicans,ducks, geese, great blue herons, and other wildfowl. And, if you're taking a sunsettour, you could witness a magnificent light show, with intense reds, pinks, golds,oranges, and purples. Be sure to have your camera handy so you can capture the colorfulspectacle.
Guided tours can last anywhere from several hours toan entire week. You can even arrange for a nighttime "bioluminescence"tour - where chemicals produced by microscopic organisms literally light up thewater.
ExploreNature at OBX - Wildlife Refuges, Water Trails, and More
Are you a birder, animal lover, nature enthusiast...or just a curious person open to new experiences? Check out the many guided kayaktours that focus on nature and wildlife. Via companies like Kitty Hawk Kitesand Outer Banks Kayak Adventures, you can paddle through unspoiled wilderness toexperience:
Roanoke Island's Alligator River Wildlife Refuge,home to alligators, wolves, black bears, and a variety of rare coastal birds
Kitty Hawk Woods Preserve's peaceful High BridgeCreek, where you'll spot otters, nutrias, white-tail deer, plus birds andreptiles galore, all amid one of the world's most famous maritime forests
Pea Island National Wildlife Refuge, a legendary"birder's paradise" on beautiful Pamlico Sound; and more
TheLatest Thrill: OBX Kayak Fishing
Love watersports? With kayak fishing, you cancombine two sports in one: kayaking and angling. No wonder it's the hottest newcraze in the NC Outer Banks.
Getting started is easy. First, make sure you have aNorth Carolina Coastal Recreational Fishing License, available for as little as$10 (for adults) online and at most tackle shops. Then, simply load up yourkayak with your rod and reel, cooler, and tackle box. Paddle out into one ofthe OBX sounds... and cast your line for mullet, flounder, speckled trout,puppy drum, and more.
If you're new to kayak fishing, consider taking aguided sound-side tour with an expert rental company such as Outer Banks KayakFishing & Excursions.
Up for a more exciting adventure? Try kayak fishingin the Atlantic Ocean, either inshore or offshore. Several OBX companies willferry you and your kayak - via a charter fishing boat - out to the open sea.Then, while you ride the waves, the charter boat will linger nearby to makesure you're safe and sound.
You'll get to cast your line for feisty larger fishlike tuna and mahi mahi. But remember, the current is swift, and the waves areoften rough. Make sure you charter your excursion with a reputable firm thatwill vigilantly watch out for you.
OwnYour Own Kayak(s)? Launch from Practically Anywhere
If you and your family are veteran kayakers, you'llbe right in your element. Simply launch your kayak from any sound-side access point.Or use one of the many public launches located throughout the islands.
For ocean kayaking, access is even easier. Bringyour kayak to any public beach, paddle out to the breakers, and ride thecresting waves.
Prefer bigger waves and more extreme thrills? Launchfrom an ocean pier, such as Jennette's Pier in Nags Head. Just be sure to watchout for riptides. (Most OBX beaches post warning signs when rip currents have formednearby.)
Any one- or two-person kayak will work for oceankayaking, but your best bet is a longer, lighter craft specially built forocean conditions.
KayakingIs Just the BeginningYou'll find countless other opportunities for family fun at the OBX.Discover our year-round outdoor activities now.