Duck Donuts now in Williamsburg and Virginia Beach!
Duck Donuts, a long popular temptation for visitors to the Outer Banks, recently expanded their operations to include locations in Virginia.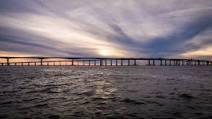 A franchise of
Duck Donuts
opened in Williamsburg in October of 2013 at The Monticello Market Place Shoppes. A second franchise opened in Virginia Beach in January at Kings Grant Road and Virginia Beach Boulevard. Another location is planned for Richmond, co-owner Robin Griffith said.
Duck Donuts is know for its fresh-baked cake doughnuts and an array of glazes and toppings to create a custom made treat for each customer. Our favorite toppings include coconut, chocolate, vanilla or lemon icing, and of course -sprinkles. It is not unusual for patrons to wait in lines that stretch out the front door of the store during the morning rush for these goodies.
Out-of-town customers have begged the owners for years to open where they live, and 25 to 40 would-be franchisees each year request their own store, Griffith said.
Duck Donuts, opened in 2007, is among Outer Banks Vacationers' favorite stops each year with locations in Kitty Hawk, Corolla, Kill Devil Hills, and of course their first store which is located in Duck.
We wish Robin and partner Russell DiGilio great success with the new Duck Donuts locations!
All the best from the beach!