Sunrise on the OBXEach week we look forward to sharing with you photo memories of our guests on Mondays.  We call it "Memory Monday," and this week we share a photo from one of our guests at
Outer Banks Blue
from this past summer from Kill Devil Hills.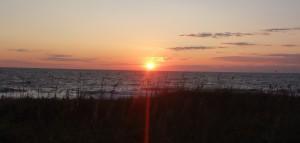 Sherry Seymour of Lansdale, Pennsylvania is the person that supplied this great photo.  The comment that comes to mind is "whoever says sunsets are beautiful may have never seen a sunrise on the Outer Banks."Sherry says this was her morning view every morning from "
Shades of Blue
"Thanks for your photo submission Sherry.  We look forward to serving you again soon!All the best from the beach!