Greetings again from the sunny Outer Banks.  We had a remarkably warm February and evidently we are still paying the price for that as it has been much cooler than we like so far this March.    Spring is set to arrive this week so we are sure that means warmer weather will be here on a regular basis, and of course we have Easter less than two weeks away now so we all are ready for some beach time.  Speaking of beach time Sandy Zygmont recently stayed with Outer Banks Blue and shared a number of photo memories with us that we are posting today on Memory Monday.Sandy is from Warrington, Pennsylvania and has stayed with Outer Banks Blue many times in the Corolla area in the property "
Here Comes The Sun
" which is at the far northern end of Corolla very close to where the paved road ends.   These pictures give some perspective about the benefits of staying there, as the beach allows for lots of space to stretch out.First off you have fantastic sunrises in this area of the beach...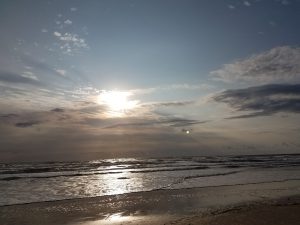 Then you have an uncrowded beach on which to discover shells and the like down by the water line....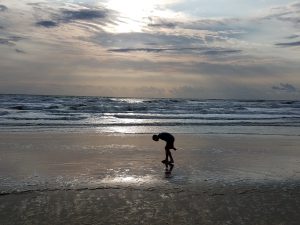 You also have room to create your own place to stick your flag and enjoy showing your colors.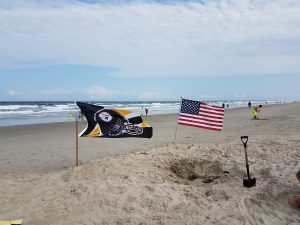 Here's a unique photo that you won't see anywhere else.  Here are some locals hanging out at the beach.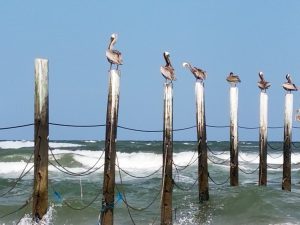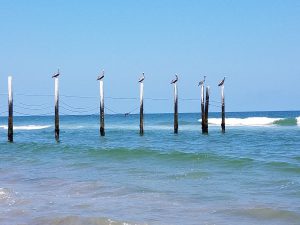 So the photo above is taken right at the spot where Corolla meets the N.C. State park and the wild horses of Corolla roam freely.  Several years ago these posts were put in place with the cables to help keep the wild horses north of this line for their own safety (they were roaming into Corolla and some had been hit and killed by vehicles).   The horses won't swim out into the ocean to get around these posts so it keeps them in place in the state park area.Finally, this vacation rental property backs up to the same state park and Ms. Zygmont sent along a picture of a sunset from the back porch of the house.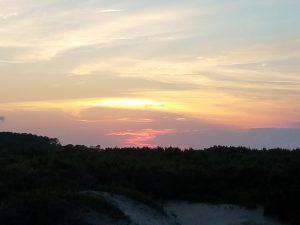 Spectacular.  Thank you Sandy for your photo memories of your most recent stay.  We look forward to serving you and your family again soon.All the best from the beach!