Horse Breakout
We have posted many pictures here previously of the Corolla Wild Horses that roam freely north of Corolla in the Carova, Swan Beach, and N.C. State Park areas.  This week we bring you some more pictures, and we bring you a news story.   It seems there was a breakout of the horses last week and a group of them made a run for it to the lush grass yards of Corolla.6 horses found a breach in the fence that keeps the horses penned north of the more densely developed are of Corolla.  The horses roamed the neighborhood south of the fence for several hours earlier this past week.  The fence was damaged due to recent storms which caused the issue.
The Virginian Pilot reported
yesterday that last week found that "the grass was greener on the other side of the fence." A smart stallion led his harem (Stallions typically lead a small group that stay together) through a section of the fence.   There is a fence that stretches from ocean to sound just north of Corolla to keep the horses penned.Here's a picture of the horses roaming near the Corolla lighthouse.By Friday all of the horses had be corralled and transported via trailer back to their safe roaming zone north of Corolla.We are very glad that no horses were injured in their adventure.   As the above link to the article pointed out the reason the horses are penned north of Corolla is in the 1980's and 1990's several of the horses were killed on the roads in Corolla area.This news story gives us an excuse to post a guest photo that includes the Corolla wild horses.
Corolla Wild Horses
Special thanks goes to Karen Holler of Warren, Ohio who stayed with
Outer Banks Blue
in the Duck Vacation Rental property "
Climate Change
."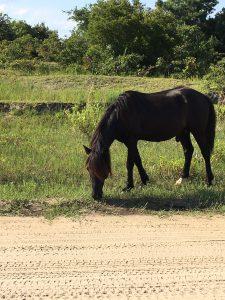 We love any excuse to include the Corolla wild horses on Memory Monday and so this week's breakout gave us an easy opportunity to include Karen's picture.No word as to whether this was one of the bandits that got out of the penned in area.All the best from the beach!