Starting a New Life Together
On this glorious Monday on the Outer Banks we are proud to share with you the photo memories of the former Ms. Lisa Gindlesperger who is now known as Lisa Lees!
Lisa got married to her hubby Matt during their stay on the Outer Banks, and she shares with us these great pics of the wedding on the beach for this week's Memory Monday.
Lisa and her crew stayed at "Salt Shaker" in Nags Head and they were married on the beach behind the house.
Lisa explains "Matt and I got engaged in Nags Head 3 years ago and there was no better place to have our wedding. It was just the two of us, our 4 children and our immediate family in front of God and the beautiful ocean. We could not have asked for a more perfect day!"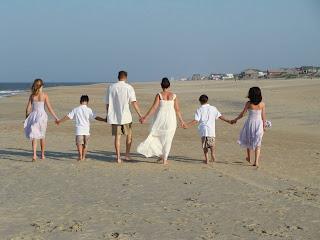 Lisa went on to say "
Salt Shaker
was one of the best rental homes we've stayed in on the Outer Banks over the last 10 years!"
We are glad you liked the house and have such special memories from your stay with us at
Outer Banks Blue.
We look forward to serving your family again soon!
All the best from the beach!
By
Tim Cafferty
, President, Outer Banks Blue Realty Services