Happy Labor Day!!
Today marks the unofficial end of summer on the Outer Banks. As I look out my office window today things seem a little less crowded, and a little quieter already as folks are packing up and heading home.
Today's photo submission is entitled "The Beauty of The Beach" by the person that submitted it, and it strikes us that indeed the beach is especially beautiful when it is quiet and uncrowded.
This picture, although not taken this morning, is a perfect backdrop to end our main summer season. The ocean is still beautiful, there are footprints on the beach from visitors (soon to be smoothed away by the oncoming tides), and there is a gorgeous sky above. The fact is, if you went to the beach here in Kitty Hawk this morning you could take a picture very similar to this shot.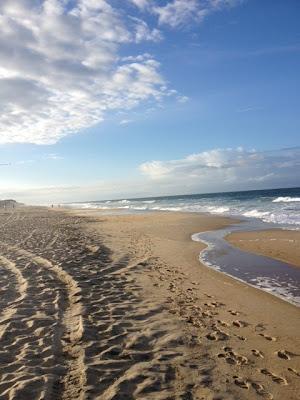 Quiet is taking over the OBX Beaches!
Now that Summer 2013 is behind us we can already hear the call of Summer 2014 calling from the distance. The waves, beautiful sky, and clean beaches await your return next year!
All the best from the beach!
By
Tim Cafferty
, President, Outer Banks Blue Realty Services