This week's Memory Monday photo submission is a bit of a different twist.   Instead of the typical sunrise over the ocean, today we bring you a moon rise.Brought to us by Trish Diachenko of Timberville, Maryland who stayed with
Outer Banks Blue
recently at the Kill Devil Hills vacation rental "
Shades of Blue
" brings us this picture that definitely puts a twist on the normal shot one would expect of a sun rising over the ocean.As you can see with some careful vision this sphere is not the sun rising, but rather the full moon rise coming up over the ocean during they early evening.  Pretty cool!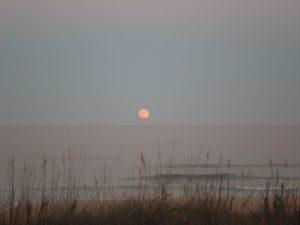 What a peaceful looking scene.Thanks Trish, we hope you and your family had a great stay, and that you come again soon.We hope everyone has a great Thanksgiving week.  It is quite busy this week at the Outer Banks with lots of vacationers as well as property owners are here this week to enjoy our vacation rental properties.   This is a wonderful time of the year to be on the Outer Banks with lots of fall activities and mild weather.Wherever this week takes you, we hope you have an enjoyable Thanksgiving.   A great opportunity for us all to pause from our busy lives and give thanks for the many blessings bestowed on us.  Happy Thanksgiving!All the best from the beach.