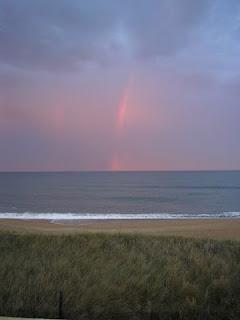 The Memorial Day Weekend 2010 Edition of Memory Monday brings us this wonderful photo from Linda Reilly of Williamsburg, Virginia.
Ms. Reilly recently stayed with Outer Banks Blue at the property "Sentimental Journey" in Duck. She stayed with us for a full month! Ms. Reilly snapped this photo of a rainbow over the Atlantic Ocean after a rainstorm. The old saying about a pot of gold at the end of a rainbow seems to be holding true here. Our pot of gold on the Outer Banks is the beautiful Atlantic!
All the best from the beach!