This week's Memory Monday entry comes to us from Mary-Ellen Bailey of Salisbury, North Carolina. Mary-Ellen stayed with Outer Banks Blue Realty Services recently at the "Vandermyde" property in Sanderling in the Duck area. You can tell by these photos that Mary-Ellen and her family enjoyed taking in the sights of the Outer Banks, but her dog really enjoyed the beach!
Thanks Mary-Ellen for these great pictures!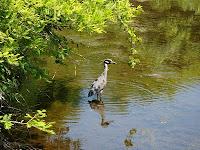 Keep in mind folks that Mary-Ellen is now entered into our monthly photo contest. By sending us these photos her name will be placed in our monthly drawing and the winner each month gets $100 off their next stay with Outer Banks Blue. You can be a winner too! Send us your favorite picture memories of your Outer Banks vacation and you may just see your pictures here too!
All the best from the beach!