This week's "Memory Monday" submission comes to us from Barbara Moefield of Saugerites New York who stayed with
Outer Banks Blue
in the property "Letting Go II" in May. She shares with us pictures taken during a recent family reunion held here on the Outer Banks (what a great place to have a family reunion)! This reunion was special as this past Mother's day was Ms. Moefield's mother's 85th birthday. As Barabara says "It was a perfect chance for our scattered family to reunite and celebrate. I chose the
Outer Banks Blue
rental in Corolla because the house was big and comfortable enough to accommodate our entire family, including our dogs.
My mother flew in from Missouri, my 2 brother's and their wives drove from Indiana and I drove from New York. We were met by my nephew, who has now happily been a North Carolinian for the past year. It was a wonderful vacation. My mother and I walked on the beach everyday and let the sound of the ocean wash away our stresses. My dogs must have thought they were in heaven. My girl, Keona, enjoyed sunning herself just at the water's edge where the occasional wave could cool her down. My boy, Clancy, would have stayed on the beach playing with his ball all day if I hadn't dragged him away for a rest. On the balmy evenings we could sit lazily on the porch and on the cool ones we could light the fireplace. One night we turned down the lights and read North Carolina ghost stories. Mom loved the hot tub and we had a few good family soaks. One of the highlights of the trip was the jeep ride over the sands to see the wild horses and their new foals.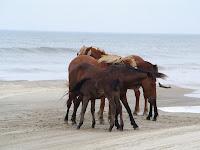 Even though a thunder storm chased us all the way back and we ended up getting wet, it was well worth the ride. I will remember warm sands, cool water, fried oysters. Just writing this makes me want to do it all over again tomorrow!" Thanks Barabara for your great pictures and sharing your great memories from your recent trip!
Outer Banks Blue
looks forward to serving you and your family again soon! All the best from the beach!