We are all a little bit excited around here because this week marks the official end to the Hurricane season (11/30 is the official end to the season).  This has been one heck of a year in terms of named storms and we were very fortunate to have gotten through the storm season unscathed.   We had one minor scare in September, but overall the Outer Banks did very well in 2017 in terms of named storms, but we are glad to see it go.This week's Memory Monday photo submission pays tribute to the only named storm to roll through the Outer Banks this year - on September 26th the storms effects were felt on the Outer Banks.Here's a couple of pictures that one of our visitors sent to us.  Unfortunately we did not have a name attached to these photos so we can't give proper credit to the photographer, the house they stayed in or where they are from, but we liked the pictures just the same and wanted to share them with you this week.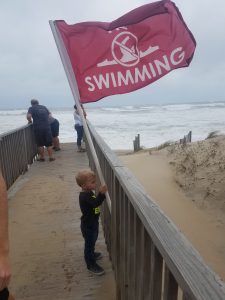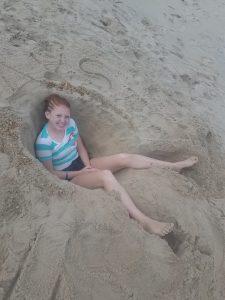 The no swimming flags definitely fly during a storm warning like we had from Maria, and the little guy in the picture is showing how to be extra safe.   As to the young lady on the right, it seems she is making the best out of a bad beach day.We thank you for this photo submission and we at
Outer Banks Blue
look forward to serving you and your family again soon....we hope that is not when a storm is threatening next time!All the best from the beach.