It was announced this week that access to and from the Outer Banks will be more difficult this winter.
The North Carolina Department of Transportation announced in a press release this week one of the two bridges that serves as the main connection to the Outer Banks will be closed for a period of 8 months beginning in Mid-September of this year and continuing until Mid-May of 2014.
Traffic headed onto the Outer Banks on the W.M. Bridge
The westbound bridge which provides two lanes of outgoing traffic will be shut down beginning September 15th and the 2nd bridge will be converted to allow one way traffic in each direction during the repair process.
The N.C.D.O.T. has awarded a $6.3 million contract to G.A & F. C Wagman, Inc of York, Pa to repair the bridge, which crosses the Currituck sound and is the only way off of the northern Outer Banks.
Plans are to replace the sagging pavement with a layer of latex-modified concrete that the highway department says will smooth out the riding surface. In addition, seals will be replaced in joints that allow the bridge to expand and contract with the weather.
Since the bridge opened in the early 1990's a series of dips on the deck of the heavily traveled span has made for bouncy, and potentially dangerous, driving for motorists heading west between the Outer Banks and mainland Currituck County.
Weather conditions will play a large role in the placement of the new pavement as the statement released by the D.O.T. indicated that air temperatures must be between 50 and 85 degrees with surface temperatures between 40 and 85 degrees. Wind speeds cannot be more than 10 MPH during the process.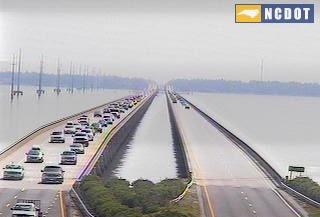 The Bridge on the Left will be closed for 8 months
There was no comment in the news release related to potential evacuations that may be called due to hurricanes.
The contract is one of 29 contracts that total $107.5 million which were awarded in June for highway and bridge projects across North Carolina, the statement said.
By
Tim Cafferty
, President, Outer Banks Blue Realty Services