Help us MAKE A DIFFERNCE one can or box at a time!
When you are checking out of your vacation home and moving in the direction of the bridge to head home, please feel free to stop by our office and leave any of your non-perishable items taking up too much space on the way home. We will donate these items to the Food Pantry and the food will be dispersed to families in need all over the state of North Carolina.
Outer Banks Blue aids in local Food Bank donations several times a year- through holidays & damage from storms to support our local families in need.
You give more than the donation to someone in need, you give hope! Outer Banks Blue allows each employee to volunteer for an 8 hour paid day of work while representing the company in any field of choice. Outer Banks Blue Marketing Director, Michelle Elmore, volunteers at The Food Bank of The Albemarle in Elizabeth City, NC. This is one of the busiest places in the business of distributing food donations in NC.
"I worked harder in one day at the Food Bank, than I have in any restaurant in my work history, and have never felt more enriched." ~Michelle Elmore~
The donations of fresh produce come from local farms, grocery stores, restaurants, and large corporations. It is unbelievable how much is NOT wasted! Each volunteer aids in scanning and testing the food to determine date of expiration and/or rotten food. Do not worry-nothing is wasted! The local farmers come & pick up older items for their pigs to chow down on the farms. You are on your feet in a warehouse with pretty much no air conditioning the entire time to get the job done. The biggest drop off day for fresh produce is Monday, in return the pick up and food bank is opened on Tuesday and the families come from all over to take home food to feed their families. People from all walks of life find themselves in need, and one of the biggest common acts of kindness is to simply give anything away to others.
Food is stored here and distributed throughout the year, especially during holidays.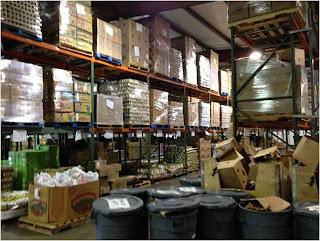 When we think of the luxuries of selecting a vacation home, packing our bags and heading to the beach...there are others who have bigger worries, such as how they will feed their families this week and if they will have enough work to make it through the holidays.
We never know what life might send our way, but we can always know that we are going to make a difference, one can or box at time. There are also ways to donate with your money online and that is both locally on the OBX and where you are personally from. Dig into it, and I assure you the blessings to follow will only grow inside of you.
We look forward to serving you again in the future and hope to hear all about your wonderful experiences with Outer Banks Blue!
Greetings from the beach!