Memory Monday 2/25/13
This week's Memory Monday Photo submission comes to us from Erin Sharpe of Purcellville, Virginia in picturesque Loudoun County who stayed with
Outer Banks Blue
this past August in the property "
Four Seasons
" in Nags Head.
This photo is of some of the children in Erin's group during the summer of 2011. That is the summer when the town of Nags Head went through an extensive beach nourishment project, and the boat pictured in the background is one of the many boats that worked just off shore to pump sand from the ocean bottom onto the beach.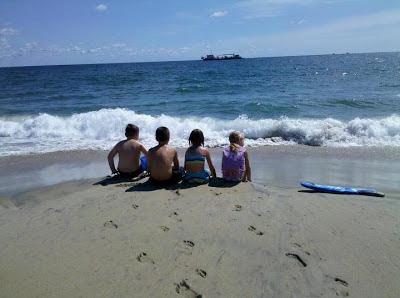 Nice Beach!
Erin tells us "We go to the Outer Banks every summer as a family. My husband and his 3 brothers, 1 sister and their families. The kids in the picture are all cousins. I thought it was absolutely adorable that the kids were all sitting together and just looking out at the ocean. We love spending time on the beach and just hanging out as a family."
Thanks Erin. We love your photo too and appreciate you sharing your photo memories with us on Memory Monday!
All the best from the beach!