Coastal Living Picks Corolla
Coastal Living Magazine readers named the Currituck Outer Banks area of Corova as their favorite beach over famous resorts including locations in Florida, South Carolina, Hawaii, Texas and California!
In a press release recently from the magazine the publishers indicated the 650,000-circulation publication narrowed choices to 20 U.S. beaches for a Readers Choice pool. The finalists were in order (Top 10):
#1 Carova Beach, Currituck County, NC
#2 Pink Sands Beach, Harbour Island, Bahamas
#3 Bowman's Beach, Santibel Island, FL
#4 Coronado Beach, San Diego, CA
#5 Captiva Beach, Captiva Island, FL
#6 Smathers Beach, Key West, FL
#7 Kaanapali Beach, Maui, HI
#8 Pawley's Island, SC
#9 Sleeping Bear Dunes, MI
#10 Eagle Beach, Aruba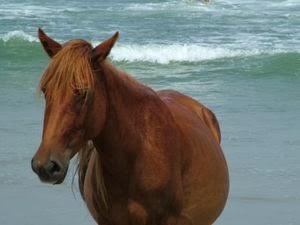 One of the Wild Horses of Corolla
Currituck's northern Outer Banks stretches 11 miles north of the Corolla area. There are no paved roads in this area and visitors must take a four wheel drive vehicle on the beach to reach communities such as Swan Beach, North Swan Beach, and Carova Beach. Less than 200 people live in these communities year-round, bu the area has become a very popular "day beach" for visitors to Corolla and the Outer Banks.
This is the area of the Outer Banks where the "Corolla Wild Horses" roam and pictures of guests that encounter these Spanish Mustangs have been posted here on Everything Outer Banks many times.
Editors of Coastal Living selected a total of 20 beaches to compete for the top spot.
Congratulations to the Currituck Outer Banks for their national recognition!
All the best from the beach!
By
Tim Cafferty
, President, Outer Banks Blue Realty Services