Bridge Construction Progressing over Winter
The temperatures have fallen dramatically on the Outer Banks over the last few weeks, but construction activity on the Westbound span of the Wright Memorial Bridge continues to work at a heated pace.
The westbound span of the Wright Memorial bridge was closed on September 17th, and is scheduled to be re-opened on May 15th of this year. G.A. & F.C. Wagman, Inc. of York, PA is conducting the resurfacing project and it was announced at the outset of the project that work could only be conducted when the air temperatures were above 50 degrees and wind speeds below 10 miles per hour. This is due to the material they are working with to resurface the bridge deck. It will not bond properly if exposed to more severe conditions.
Given the typical Outer Banks winter conditions most believed this stipulation would mean a complete stoppage of work in December, January, and February.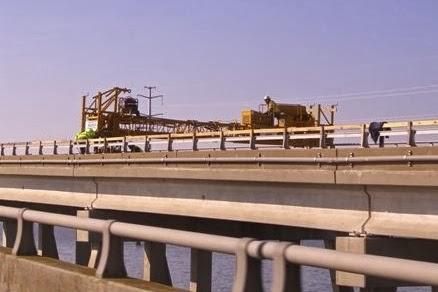 Work Continues on the Wright Memorial Bridge
While recent conditions have drawn the daily work to a stop, surprisingly the contractor was able to get in many work days up until recently and it has resulted in the project being more than 1/3rd completed at this time.
One of the ideas that provided extra time was the addition of simplistic wind screens which protected the work area. These screens are simply large pieces of plywood, propped up against the side of the bridge to limit wind flow over the bridge deck and promote temperature effectiveness from the sun.
The $6.3 million dollar project is an extremely involved process. The pavement being used - latex concrete - is more expensive and complicated to work with than normal surfacing products, but its lifespan and upkeep is significantly better than traditional surfacing.
Locals have watched with interest the process of construction which first involves removing the bridge deck with saws that shoot a stream of liquid at 20,000 psi to strip the surface to a consistent level. All water used in the process has to be recaptured and cannot fall into the sound. That means a steady stream of water trucks are lined up on the bridge to provide and then recapture the water used in the process. The waste material is then hauled away from the project and can be used in area fields as a nutrient since the substance contains a great deal of lime.
Originally the North Carolina Department of Transportation discussed this as a two-year project, but the contractor is confident the project will be complete by May of this year. A key to that prediction is future weather conditions, but so far it would seem they are a bit ahead of schedule.