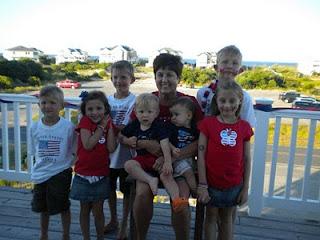 It is a fantastic Monday on the Outer Banks with sunny, clear skies and temperatures in the mid 70's. A great time to consider a fall getaway to the
Outer Banks
and a time to make family memories! Speaking of which this week's Memory Monday submission comes to us from Sue and Jay Reed of Wilmington, Delaware who have been getting their family together on the Outer Banks for the past 9 years.
Sue best describes the Reed's Outer Banks vacationing experience when she tells us "We have three kids, none of whom live in DE. and they are spread out in Georgia, Florida, and Ohio with their respective families so we do this week to re-connect ! It is always the only time in a year that we ALL are together. Needless to say, we just love it. We pretty much just hang out - my husband and I always do a babysitting nite and the three couples go to the BluePoint Grill. A trip with Grammy (that's me) and all 7 kids to the Dairy Queen has become a tradition. The guys usually do a golf day. The rest of the time is totally beach - all three of our kids were swimmers and lifeguards, my husband was a surfer .... That's about it - we just love it and it has become the highlight of our summer."
Thanks Sue for sharing your picture of you and your ice cream buddies! By the way the Reed clan stayed with
Outer Banks Blue
at the "Four Sea Sons" property in Corolla in July. We look forward to serving you all again soon.
All the best from the beach!