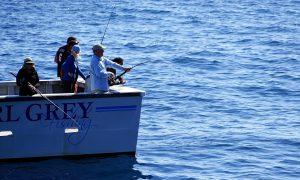 Right offthe coast of Cape Hatteras, two mighty currents collide.
One isthe warm-water Gulf Stream, flowing up from the Gulf of Mexico. The other's theLabrador Current, which carries much cooler water down from the Arctic Ocean.
Wherethese two streams meet, numerous fish species flourish. In fact, the waters aroundthe NC Outer Banks furnish one of the richest fishing grounds in the world.
No wonderthese beautiful barrier islands are considered an angler's paradise, with endlessopportunities for all kinds of recreational fishing.
A Variety of Fish Year 'Round
What's biting at the Outer Banks? That depends on multiple factors: time of year, time of day, winds, tides, water temperatures, and precise location.

Some fish are plentiful eight or nine months a year - bluefish, flounder, kingfish, and spotted sea trout, for instance. Others abound mainly during warmer months - pompano, cobia, Spanish mackerel. But even in the depths of December, you can reel in a black or red drum or a feisty striped bass.

Easiest Way to Get Started? Fish from the Shore
No fishing boat? No problem. Simply step out thedoor of your oceanfront rental - or stroll to the nearest beach - and cast yourline from the shore.
The Outer Banks offer more than 100 miles of beautiful,sandy shoreline where surfcasting is free of charge. All you'll need is a fishing license, a surfrod, some bait, a tackle box, and a cooler to store frozen bait and freshlycaught fish.
Want ultimate convenience? Opt for a rod holder,beach chair, and fishing cart. And if you're planning to wade into the surf, besure to wear waterproof waders.
Fishing licenses are available online, at any NC Divisionof Marine Fisheries office, at local Wal-Marts and K-Marts, and at many tackleshops. For as little as $5 (for NC residents) and $10 (for non-residents), youcan purchase a 10-day Coastal Recreational Fishing License, which covers most OBXfishing for anglers age 16 and up. (Kids under 16 are exempt.)
Surf fish can put up quite a fight, so even ifyou're a seasoned angler, you'll relish the challenging thrill. Depending on seasonand weather, you may hook bluefish, striped bass, drum, flounder, croaker,pompano, sea mullet, Spanish mackerel, and more.
Planning to keep your catch? Be aware of officialbag and size limits. Some species are completely unregulated - you may keep asmany as you like, regardless of size. But other species are strictlycontrolled. Flounder, for instance, must be at least 15 inches long; otherwise,you must catch and release. With bluefish, you can catch up to 15 per day, butonly five can be longer than 24 inches. Ask your tackle shop for specifics orcheck online with the NC Division of Marine Fisheries.
Pier Fishing - Inshore Fun and Camaraderie
Ready to venture a little farther from shore (butnot into deep offshore waters)? Try fishing from one of the Outer Banks' fabledocean piers, located at Kill Devil Hills, Nags Head, Kitty Hawk, and HatterasIsland (Avon and Rodanthe). All piers are covered by blanket licenses, so youwon't need to obtain individual CRFL licenses. However, you will need to pay a modest pier-fishingfee.
Bring your own rod and reel if you like. Or rentyour equipment from any pier-side bait-and-tackle shop.
Getting started is simple. Just stake out your spotand cast your line for flounder, croaker, spot, cobia, sheepshead, Spanishmackerel, bluefish, and more.
Sound Fishing - Family-Friendly Angling in Brackish Waters
Saltwater fishing is not your only option at the NCOuter Banks. To the west, these islands border a complex network of sounds,channels, and inlets, where fresh water (from inland rivers) mingles with salt water(from the Atlantic) to form a brackish mix.
Thanks to grasses, marshes, and lush vegetation, thesebrackish waters provide plenty of enticing food for bait fish. And those baitfish, in turn, attract hungry, larger game fish. Result: a rich, fertilefishing ground.
Cast your line from a bridge, grass flat, or boat tohook bait fish like mullet and menhaden or game fish like redfish, black drum,flounder, speckled trout, and bass (largemouth and striped).
Offshore Fishing - the Ultimate Deep-Sea Challenge
Ready to reel in the big ones - marlin, tuna,sailfish, mahi-mahi, and more? Charter an offshore fishing excursion at the NCOuter Banks. These trips aren't cheap, but you can split the cost among friendsand family (typically up to six people allowed per boat).
An excursion usually lasts a full day. You'll join aseasoned captain and crew in a specially equipped boat, motoring out to theGulf Stream where giant billfish and other sportfish species thrive. Mostcharters provide bait, tackle, and ice... along with any info and assistanceyou may require. Typically, kids are welcome onboard, so your entire family canshare in the memorable experience.
Come for the Fishing... Stay for Everything Else
You'll find countless opportunities forfamily-friendly fun here in the NC Outer Banks. Visit anytime for world-class fishing,sailing, surfing, swimming, exploring, R&R, and much more.